Posted on
Wed, Oct 24, 2012 : 5:05 p.m.
2 men accused in armed robbery refuse plea deals, waive preliminary examinations
By John Counts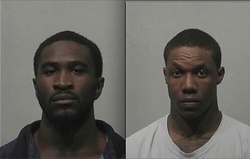 Courtesy of the Washtenaw County Sheriff's Office
The two men accused of robbing a man at gunpoint outside an Ypsilanti Township apartment complex last month refused plea deals from the prosecution and waived their preliminary examinations in the 14A-1 District Court Tuesday.
Amber Marie Davis, 23, who has also been charged in the robbery, also waived her examination in the same courtroom Monday. All three cases were bound over to the Washtenaw County Trial Court.
Eddie Nailor, 20, of Ypsilanti, and Deandre Mitchell, 20, of Belleville, were charged with armed robbery and felony firearm. Assistant Washtenaw County Prosecutor Amy Reiser added a count of conspiracy to commit armed robbery in both cases on Monday.
The plea offer involved dropping the added charge if Nailor and Mitchell pleaded guilty to armed robbery and felony firearm. Both rejected the deal, which will still be available when the cases go to circuit court.
A not-guilty plea was entered for both men. Davis stood mute on charges of armed robbery, felony firearm and conspiracy to commit armed robbery.
Davis was arraigned on the charges Sept. 26, a little more than a week after Nailor and Mitchell were taken into custody following the incident at the Lakeshore Apartments. Sgt. Geoff Fox of the Washtenaw County Sheriff's Office said Davis was identified and charged after more investigation.
She is accused of calling the man who was robbed and luring him to the location where he was confronted by Nailor and Mitchell, Fox said.
The man went to the apartments at 3:25 a.m. Sept. 14 to hang out with a friend, AnnArbor.com has previously reported. After meeting a woman police believe was Davis, the man went inside the apartments to see a friend, police said. Shortly after going inside, the man allegedly got a call from Davis telling him she forgot to give him something and he needed to come back outside. The man walked out of the apartments and was confronted by men police believe were Nailor and Mitchell, police said.
One of the men had a gun and demanded money, so the victim emptied his pockets. The men fled the area with the money. They later brought Nailor and Mitchell into custody.
They will appear in circuit court at 1:30 p.m. Nov. 1 before Judge David Swartz. They remain in the Washtenaw County Jail on $50,000 cash or surety bonds. Davis had a court hearing scheduled in circuit court Nov. 29. She is free on 10 percent of $10,000, the bond set at her arraignment.
John Counts covers cops and courts for AnnArbor.com. He can be reached at johncounts@annarbor.com or you can follow him on Twitter.