Police: Men concealed stolen propane tanks in recycling bin
Posted on Wed, May 30, 2012 : 1:30 p.m.
Two Ann Arbor men won't be able to throw the blowout barbecue they were apparently planning when they were caught stealing four propane tanks Tuesday.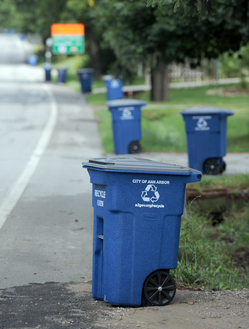 AnnArbor.com file photo
Ann Arbor police Lt.
Renee Bush
said an Ann Arbor police parking enforcement officer saw a 35-year-old man and a 51-year-old man loading the tanks into a blue city of Ann Arbor recycling bin. The officer called investigators at 11:35 a.m. Tuesday to the 400 block of East Madison Street to report the incident, Bush said.
The men had taken the propane tanks from the yard of a home on the block and put them into one of the blue bins, Bush said. Officers responding to the call found them rolling the bin down the sidewalk with the propane tanks inside.
The tanks belonged to a 30-year-old Ann Arbor man and a 19-year-old Ann Arbor man.
The suspects were arrested and lodged at the Washtenaw County Jail, Bush said