Posted on
Tue, Mar 6, 2012 : 11:37 a.m.
No external panel appointed yet to review U-M child porn reporting delay
By Lee Higgins
The University of Michigan Board of Regents has not yet appointed an external panel to review why university officials waited 6 months to tell police after child porn was found in the Pediatric Emergency Department at U-M Hospital.
Meanwhile, records obtained by AnnArbor.com reveal some information about the two attorneys who launched their own investigation May 25, two days after a resident physician found child porn on a thumb drive in a locked lounge residents use.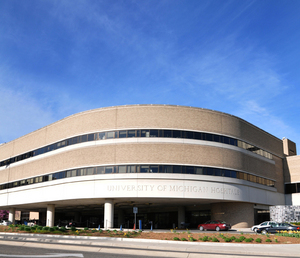 University of Michigan Health System photo
The attorneys decided eight days later - without contacting police - that there wasn't sufficient evidence to move forward.
Resident physician Stephen Jenson ultimately was charged in December with possessing child pornography after another physician familiar with the child porn allegation came forward last fall.
The lead attorney who investigated the child porn allegation was Susan Kay Balkema, who worked more than 6 years as an assistant state attorney general in the Licensing and Regulation Division before being hired by the U-M Health System, her personnel file shows. Her emails show that she was assisted by attorney Adil Daudi.
Daudi instructed a Medical Center Information Technology data security analyst to pull records on the computer where the child porn was viewed. A resident physician found the child porn May 23 on a thumb drive left in a computer and suspected the drive belonged to another resident physician. However, when she returned the next morning, the thumb drive was gone.
Daudi told the analyst in a May 25 email that anything he did was confidential.
"Per our conversation, the Office of the General Counsel (OCG) would like you to pull the windows event logs from May 23rd for the computer terminal in question located in the pediatric resident room," the email says. "We are interested in determining who used the computer terminal on May 23rd and, if possible, what programs or files were accessed by each user (the "Task").
"The OGC is enlisting your assistance and delegates the necessary authority to you on behalf of the OGC to carry out various tasks that will aid the OGC in the investigation and defense of actual or anticipated litigation."
Balkema was copied on that email and thanked Daudi after he sent it.
On June 2, Balkema interviewed the resident physician who found the child porn, the university's internal review shows. The physician felt intimidated and left the interview crying. The attorneys told the health system's chief compliance officer that day that there wasn't sufficient evidence to move forward and that the resident physician's story was shaky. Another physician told the resident physician that she wanted to follow up with Balkema about the child porn, but the resident physician asked her not to, the review found.
Balkema resigned effective June 10 from her post at the health system, where she worked three-and-a-half months, earning $125,000 annually. Her recommendation for rehire was restricted, meaning she could be rehired in a different type of position or department. She also reached a settlement agreement with the university when she resigned that meant she would receive more than $36,000.
While university officials said her departure had nothing to do with the child porn case, U-M President Mary Sue Coleman referred to Balkema when she said in February that the university's internal review found an attorney acted improperly.
"A university attorney must not assume the lead role in investigating a potential crime of this nature," Coleman said at the time. "This is solely the responsibility of the police."
However, Coleman also acknowledged that others shared the responsibility for reporting the crime. "The auditor's review has revealed a significant breakdown across a number of units responsible for the safety, security and well being of the people on our campus."
In addition to health system attorneys, the resident physician spoke with her supervisors and met with hospital security officials about the case, police records show. But the child porn wasn't reported to university police for six months.
In November, the physician who wanted to follow up with Balkema came forward because of the Penn State University football child sex abuse scandal and after learning Balkema left.
By Dec. 17, Jenson was charged by Washtenaw County prosecutors with four counts of possessing child sexually abusive material. Jenson, 36, who worked as a resident physician at the hospital until late December, was later charged with federal charges of receipt of child pornography and possession of child pornography. The state charges have been dismissed in favor of federal prosecution.
Balkema and Daudi did not respond to requests for comment. AnnArbor.com obtained the personnel file and emails through the Freedom of Information Act.
Balkema's emails also show that she had an opportunity to report the child porn to federal law enforcement.
In what appears to be an unrelated matter, she sent an email to an FBI agent May 25 at the same time Daudi emailed the IT analyst about pulling the logs on the computer where the child porn was viewed. Agents contacted Balkema on May 24 as they were trying to find a convenient time to set up a meeting with two doctors. The emails didn't specify what the meeting was about, but it does not appear to be related to the child porn case. FBI spokesman Simon Shaykhet declined to comment.
Along with the external panel not being appointed, the university hasn't decided which outside expert will be brought in to assess the university's safety and security culture and help make changes.
That decision should be made by April 1, university spokesman Rick Fitzgerald said.
AnnArbor.com staff writer Kellie Woodhouse contributed to this report
Lee Higgins covers crime and courts for AnnArbor.com. He can be reached by phone at (734) 623-2527 and email at leehiggins@annarbor.com.