Posted on
Tue, Nov 22, 2011 : 1:01 p.m.
U-M police take questions from public at first in promised series of meetings
By Kyle Feldscher
Members of the public got a look into how the University of Michigan Department of Public Safety conducts its business at a public meeting Tuesday, with the promise of more to come.
The meeting attracted about 30 members of the public as well as university and city of Ann Arbor officials and 22 members of different divisions of the public safety department. It was a surprising turnout for an 8:30 a.m. meeting just a few days before Thanksgiving and was more than Chief Greg O'Dell expected.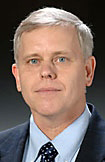 O'Dell said the meeting followed the same format of the weekly meetings he has with members of the department. Members of the public who came to the meeting also got the chance to express some concerns and ask questions about the department, which was one of the main reasons O'Dell said he to hold the meeting.
"I want to hear what you guys say and what your concerns are," O'Dell said. "We're all in this together."
O'Dell presented statistics showing the number of reports and arrests the department has made this so far this year, compared to the same period last year and the year before. The statistics showed the number of crimes continuing to keep pace with statistics reflected in the annual report released in September.
Reports of crimes such as larcenies, burglaries, sexual assaults, aggravated assaults and motor vehicle theft are all down compared to November 2010 and November 2009, according to the statistics O'Dell provided. The report also showed that index crimes. the most serious crimes, including — homicide, forcible rape, robbery, burglary, aggravated assault, larceny more than $50, motor vehicle theft and arson — are down 30 percent from the same time one year ago.
"Overall, if you show me a number down 30 percent, I'm pretty happy," O'Dell said.
Lt. Melissa Overton led the meeting as she usually does, giving updates on investigations detectives are working on, major arrests made in the last week and maps showing where incidents were being reported.
Several people who participated in a roundtable discussion expressed concerns about the number of laptops being stolen from university libraries. Officers discussed a new initiative in which anyone patrolling the libraries who sees an unattended expensive item puts a card near the item reminding the owner to not leave items unattended because they will get stolen.
Overton said the department has many operations in effect trying to limit the number of laptop thefts, which are overwhelmingly affecting students.
"We do undercover stings (to catch people stealing laptops)," she said. O'Dell said he's not sure how many other similar meetings the department will hold in upcoming weeks, but he wants to bring them to different areas of the campus community to get more people involved.
Holding these types of meetings has been one of his goals since he took over the chief job a few months ago, he said.
Kyle Feldscher covers cops and courts for AnnArbor.com. He can be reached at kylefeldscher@annarbor.com or you can follow him on Twitter.