Posted on
Mon, Dec 19, 2011 : 6:30 p.m.
U-M police offering $500 reward for information on ATM theft Saturday
By Kyle Feldscher
University of Michigan police are looking for two people suspected of stealing an ATM from the U-M Cardiovascular Center Saturday, and they're offering $500 for information leading to their arrest.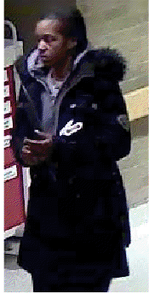 Courtesy U-M Police
University police spokeswoman
Diane Brown
said police believe the suspects, one man and one woman, unplugged the ATM from the Cardiovascular Center and wheeled it out of the building on a dolly. The machine was found outside the building and no money was removed from it, Brown said.
The first suspect is a black man, between 5 feet 5 inches and 5 feet 7 inches tall, with a slim to average build. He was wearing a dark-colored hooded sweatshirt, a Carhart-style jacket and dark pants, Brown said.
The second suspect is a black woman, between 5 feet 4 inches and 5 feet 6 inches tall, with a light to medium complexion and a slim build. She is between 30 and 40 years old and was wearing all dark clothing.
The two suspects left the area in a newer-model, gray Jeep Grand Cherokee, Brown said.
Police are offering a $500 reward to anyone who is able to help police in their investigation. Anyone with information on the incident is encouraged to call 911 from an on-campus phone or 734-763-1131 from an off-campus phone.
Kyle Feldscher covers cops and courts for AnnArbor.com. He can be reached at kylefeldscher@annarbor.com or you can follow him on Twitter.