Posted on
Thu, Nov 10, 2011 : 8:01 a.m.
U-M police seek suspect in dorm sexual assault
By Cindy Heflin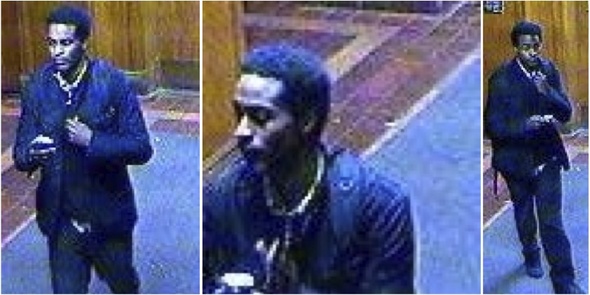 University of Michigan
police have released a wanted poster, including photographs, for a man they are seeking in connecting with a sexual assault in a residence hall Oct. 30.
The assault is not believed to be connected to a series of attacks on women near the U-M campus and in the downtown area over the summer.
The 19-year-old woman told police she was walking down the hallway in the East Quadrangle Residence Hall, where she lives, about 1:45 a.m. and was approached from behind by an unknown man who reached under her clothes and grabbed her buttocks. He then fled down a nearby stairwell. Building security cameras captured images of the man police believe is the suspect.
The woman reported the incident to police two days later. The residence hall is located at 701 E. University Ave.
The man is described as black and of college-age or early 20s. He is about 5 feet 7 inches tall and weighs about 170 pounds. He has dark wavy black hair and was wearing dark-colored clothing and carrying a dark-colored backpack. Anyone with information about the man or the incident is asked to call University Police at 734/763-1131.