Posted on
Thu, Aug 18, 2011 : 7:01 a.m.
U-M student grabbed by man on Thompson Street; police say it doesn't appear to be connected to other Ann Arbor attacks
By Lee Higgins
Update: Reaction near Thursday's attack: Some U-M students feeling less safe in Ann Arbor
A man grabbed a University of Michigan student as she was walking on Thompson Street this morning, but investigators said the assault does not appear to be related to 6 other recent attacks on women in Ann Arbor, including 2 rapes.
The man grabbed the 21-year-old woman's arm about 1:50 a.m., but she struggled with him, broke free and left the area, university police said. She was not injured.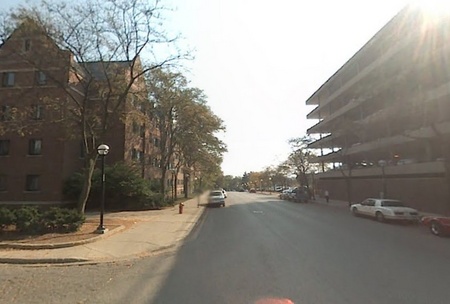 From Google
The man fled in an unknown direction after the assault in the 500 block of Thompson Street near West Quad, a university police crime alert said.
Both university police and Ann Arbor police said the attack does not appear to be related to the string of other attacks in the city between July 15 and July 26. That's because the description of the suspect is different, Ann Arbor police spokeswoman Lt. Renee Bush said.
But university police spokeswoman Diane Brown said investigators will be exploring whether there are any links. University police are leading the investigation into today's assault.
The man involved in today's attack was described as black, in his late 50s, 5 feet, 7 inches to 5 feet, 8 inches tall, with a thin build. He was clean shaven and was bald or had very short hair, the alert said. The man was wearing a green shirt, dark-colored pants and a white or light-colored baseball cap, police said. Brown said the woman was targeted as she was walking alone on a sidewalk.
"We continue to encourage our community to be very vigilant and remain aware of their surroundings at all times," Brown said.
Ann Arbor police continue to investigate the other 6 attacks and have received at least 600 tips, but have made no arrests. In each case, women walking alone late at night or early in the morning were targeted. The attacks occurred between 10:10 p.m. and 2 a.m. and investigators believe one or two men are responsible.
The first attack occurred at 10:10 p.m. July 15 near Thompson and East Liberty streets. A man grabbed a 21-year-old University of Michigan student around the neck, but she resisted, broke free and was not injured. In that case, the attacker was described as white, 29 years of age, 5 feet, 7 inches tall, 165 pounds, with a medium build.
On July 18, 2 rapes occurred roughly 22 hours apart. About 12:40 a.m., an 18-year-old Ann Arbor woman was pulled into an alley and raped in the 700 block of South State Street near the University of Michigan. The woman was taken to a hospital, but police would not say whether a rape kit was submitted for DNA analysis. And between 10:30 p.m. and 11 p.m., a 26-year-old Ypsilanti woman was raped in an elevator in the Liberty Square parking structure, police said. The victim came forward three days later.
To date, police have released two sketches of possible suspects in the attacks.
Anyone with information on this morning's attack can call university police at (734) 763-1131.
Anyone with information on the 6 other attacks can call the Ann Arbor Police Department's confidential tip line at (734) 794-6939 or Crime Stoppers at 1 (800) SPEAK UP. Crime Stoppers is offering a $1,000 reward for information leading to an arrest in the case.
Lee Higgins covers crime and courts for AnnArbor.com. He can be reached by phone at (734) 623-2527 and email at leehiggins@annarbor.com.