Posted on
Mon, Apr 1, 2013 : 2:15 p.m.
Victim's daughter: Man killed in Ypsilanti was trying to intervene in lease dispute
By John Counts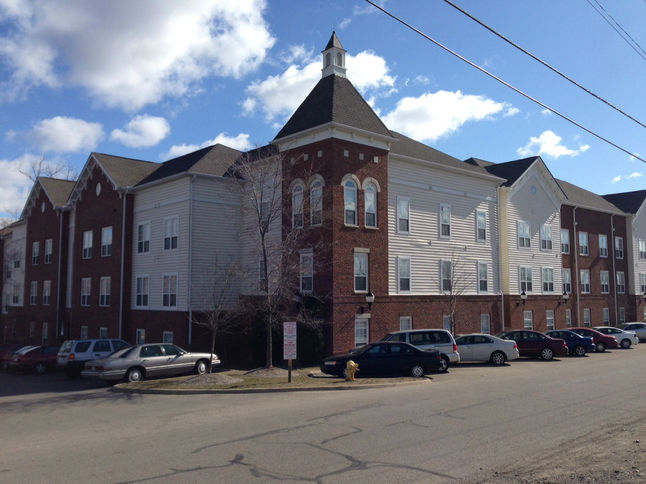 John Counts | AnnArbor.com
The 46-year-old Detroit man killed in Ypsilanti Sunday night was coming to the aid of his 19-year-old daughter who lived at the Peninsular Place apartments with the two suspects, police and family members said.
Police confirmed Monday afternoon that the victim was John Lawrence.
Monday morning, the victim's daughter Raven Lawrence was cleaning out the apartment she shared with the woman and man, both 20, who were arrested late Sunday night in connection with the death of her father.
The nursing student at Eastern Michigan University said she and her roommate, the 20-year-old woman, were arguing about money.
"It was a situation involving our lease," she told AnnArbor.com. "He (the boyfriend) wasn't supposed to be here."
Raven Lawrence said the man had been staying at the apartment with her roommate and the couple's 2-month-old baby.
What started out as a conversation about the lease eventually escalated into a heated verbal argument, she said. When she felt threatened, she called her parents, she said.
John Lawrence then drove to Ypsilanti from Detroit with hopes of taking his daughter out of the apartment for the night, Raven Lawrence said.
"My dad came. He had his gun on him and he told me to take it outside," Raven Lawrence said.
Courtesy of Kaitlin Vogt
She said she left her dad in the apartment with the two 20-year-olds while she took the gun out to his car. When Raven Lawrence returned, the door was locked.
"I was banging on the door, but they wouldn't let me in," she said, adding that she only got back into the apartment when police arrived.
Neighbors recall hearing someone banging on a door and screaming around 8:45 p.m. Sunday.
"… The girl screamed at the top of her lungs," said EMU student Kaitlin Vogt, who was visiting her boyfriend at the apartment complex Sunday night. "It was the most horrifying scream. I'll never forget that scream I heard."
Vogt's boyfriend, Paul Glinski, also an EMU student, lives two floors above Lawrence's apartment.
"It was like something out of a movie," Glinski said of the scream.
When Raven Lawrence got inside the apartment, she said she saw her father lying on the floor. She said she took his pulse and felt nothing. Police soon escorted her out of the apartment.
"The next thing I knew they had him coming out on a stretcher," she said.
Lawrence said she thought her father was hit on the head with some sort of object, but she couldn't immediately be certain what kind of object was used. Neither were police, but they said they were investigating whether it might have been a frying pan.
Police are still trying to determine exactly what happened. An autopsy was being performed Monday morning, Ypsilanti police said. The case was initially ruled a homicide, citing blunt force trauma as the cause of death.
The two 20-year-olds were arrested and were being held at the Washtenaw County Jail as the investigation proceeded, police said.
Raven Lawrence said she has lived with the 20-year-old at the apartment since August 2012.
The apartment complex is home to many Eastern Michigan University students. Ypsilanti police are still investigating the case of 23-year-old Julia Niswender, who was found dead of an apparent homicide inside an apartment in the complex last December.
Glinski said both incidents occurring at the complex in such a short time space is "concerning."
"I'm more aware of my surrounding," he said when asked if he was taking any precautions.
John Counts covers cops and courts for AnnArbor.com. He can be reached at johncounts@annarbor.com or you can follow him on Twitter.