Warrant filed for the arrest of Belleville man in Ypsilanti party store shooting
Posted on Tue, Jul 3, 2012 : 7:10 p.m.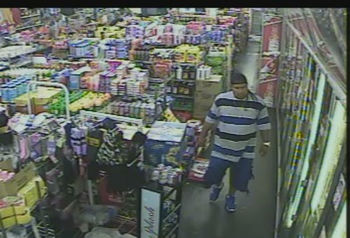 Courtesy of the Ypsilanti Police Department
Police are looking for a 32-year-old Belleville man they believe shot a 23-year-old man following a dispute at an Ypsilanti party store in May.
An arrest warrant was issued for Jorge Efrain Vasquez on Tuesday, according to court records. The charges listed in the warrant are assault with intent to murder, assault with intent to do great bodily harm less than murder, assault with a dangerous weapon, carrying a concealed weapon, possession of a firearm and felony firearm.
Vasquez is accused of shooting a man outside Joe's Market Cellular on South Huron Street in Ypsilanti. Security cameras captured the image of a man later identified as Vasquez, according to police.
"Witnesses positively identified him from the surveillance video," said Det. Joe Yuhas of the Ypsilanti Police Department.
The video shows the shooting suspect in the party store buying beer minutes before he is believed to have walked out into the parking lot and shot a 23-year-old Ypsilanti man three times around 9:45 p.m. on May 28, police said.
"It appeared to be just a simple argument," Yuhas said.
The victim was shot in the arm, leg and abdomen.
Police are actively searching for Vasquez and have scoured the Belleville area for him. So far, they haven't been able to track him down.
But they continue to look.
"Based on the latest information, we believe he is still in the area," Yuhas said.