Posted on
Wed, Apr 4, 2012 : 5:58 a.m.
Police raid on troubled home yields arrest of man suspected in at least 21 home invasions
By Tom Perkins
A joint police raid on a now-condemned home led to the jailing of a West Willow man who police believe was involved in a series of home invasions across Ypsilanti Township and Washtenaw County.
Terrill Smith, 35, is being held at the Washtenaw County Jail on home invasion, receiving and concealing stolen goods and two felony firearm charges.
Sheriff's Office Lt. Jim Anuszkiewicz said Smith is linked to 21 home invasions in Ypsilanti Township and likely will face more charges from other agencies.
He was arrested March 16 after in a joint raid conducted by the Washtenaw Metro SWAT Team, Ann Arbor Police Department, Ypsilanti Police Department and the sheriff's office.
No charges have been filed by any agencies other than the sheriff's department, but an Ann Arbor police official confirmed Smith is being investigated and the warrant was served by the AAPD. He declined to say whether Smith was suspected of being involved in a rash of break-ins that occurred earlier in the year.
Ypsilanti Township building officials accompanied law enforcement personnel on the raid at 689 Cayuga St. and subsequently condemned the house where police say Smith was staying.
That comes as a relief to neighbors, who say the house has been the source of a wide range of issues and are hopeful that this raid means an end to disturbances, including gun fire and loitering. At its March 26 meeting, the Ypsilanti Township Board of Trustees authorized staff to take legal action against the home's owner if it isn't up to code.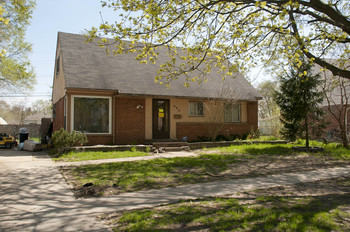 Tom Perkins | For AnnArbor.com
The home is owned by Beatrice McKeown, who is the mother of Clifton "Pete" Lee Jr., a man who was killed during a struggle with sheriff's deputies in 2006. The family subsequently sued, and the department settled two separate cases for over $5 million.
Anuszkiewicz said McKeown doesn't live at the residence, and police believe Smith stays there with Rose McKeown. Officials said Rose McKeown was Beatrice McKeown's granddaughter until she was adopted as her daughter.
Like the neighbors, Anuszkiewicz said he hopes Smith's arrest and the condemnation of the home brings an end to the issues.
"That house has caused nothing but problems, for not only their own household but neighbors on Cayuga Street and neighbors in West Willow," he said. "We've been out there numerous times over the years for calls related to everything from disorderly subjects, shots fired, alleged guns, dog fighting; a whole slew of things have been reported coming out of that location."
"We believe our investigation will show that they were not only involved in home invasions, but there was the fencing of stolen property, the holding and selling of stolen property," he said.
The house has been raided several times throughout the past three years, but this is the first time the township has condemned it. If it's owner doesn't fix issues cited in a notice of violation, then the township will ask a court to order it repaired or demolished.
Among other issues inspectors found were broken pipes throughout the home that were leaking into the ceilings and drywalls, an addition being constructed without a permit, faulty electrical wiring that presented a fire hazard and mold growth.
Several children living in the home have been relocated.
Angela Barbash, who is involved with New West Willow Neighborhood Association, spoke to the board about the home at its meeting.
She said it was suspected by neighbors that the house was behind many of the neighborhood's break-ins. But she said no one had been able to catch the home's occupants in the act or with the stolen goods.
Neighbors also were upset about noise from the house, the "ridiculous amount of traffic" from visitors, kids hanging out in the street and other problems.
"I'm hopeful this will put an end to it, but after seeing them be raided so many times, I'm not sure this is going to put a stop to it," she said. "But I have more optimism now than in the past."