Posted on
Wed, May 9, 2012 : 5:35 p.m.
West Willow residents take to the streets after shocking sexual assaults
By Kyle Feldscher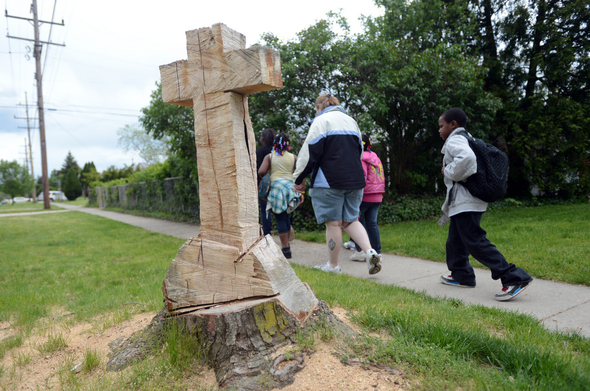 Melanie Maxwell | AnnArbor.com
Previous story: Willow Run schools respond to Wednesday's sexual attacks by putting staff on patrol
The parents of West Willow walked home from school Wednesday.
They walked through the rain. They walked past teachers. They walked past the superintendent. They walked past news vans. And, the whole time, they walked with their children right by their sides.
The reason: They were scared after police took three separate sexual assault reports early Wednesday.
Cry Johnson, who lives just down Chevrolet Street from where a girl was sexually assaulted by a man who approached her on a bicycle, said she walked her daughter, Lashawn Johnson, home from the bus stop and would walk her to and from the bus stop until the man is caught.
Lashawn, a Willow Run High School student, said she saw the first assault take place while she was getting ready for school. Even though they live in a neighborhood that's no stranger to dangerous incidents, both of them said the three assaults Wednesday morning had put fear into their hearts.
"I've been here for like 26 years," Cry Johnson said. "This is unusual because we've got school kids walking through here. I heard her screaming and I called the police and they came right on out."
Deputies reported a 17-year-old girl was approached from behind by a man who had rode past her on a bike. The man put his hand over her mouth to prevent her from screaming and used his other hand to grope her crotch, letting her go when she bit his hand and ran back to her nearby home.
The concern for students was evident in the demeanor of some parents, who took it upon themselves to walk other people's kids home when their parents weren't able to make it. On almost every block surrounding the intersection of Chevrolet Street and Studebaker Avenue, there were groups of people walking home with children.
Lashawn said she saw the girl's father chase the man, who pulled away from him on his bicycle. Just minutes later, the man supposedly groped an 11-year-old girl, who reported the assault to deputies while they responded to the original complaint.
Deputies were notified of a third incident — an attempted kidnapping of another 11-year-old girl — near Nash Avenue and Dodge Court while they began investigating the first two reports.
The man is also believed to have committed a similar sexual assault on a young girl near State Street and McCartney Avenue, according to sheriff's office spokesman Derrick Jackson.
In an area where residents might have thought they had seen it all, shock was the prevailing emotion.
"Stuff happens here. But, this? No," Lashawn said.
Former West Willow resident Darrell Sheffield, who was dropping his 6-year-old daughter off at his aunt's home Wednesday afternoon, said he was caught off guard by the fact that the original assault happened just houses down from where his daughter would be staying Wednesday evening.
Sheffield left the neighborhood in 1983 and he's aware the neighborhood has gained a reputation for crime in recent years. Still, the reports "amazed" him.
"I didn't know it happened here. I had read that it happened in Ypsilanti, but I'm amazed," he said.
While police continue to search for the man — described as black, medium complexion, with blotchy and patchy hair, wearing a black and white striped hooded sweatshirt and red shorts — members of the Willow Run Community Schools took to the streets to make sure their students got home safely.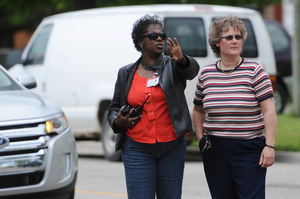 Melanie Maxwell | AnnArbor.com
There were posts of teachers, paraprofessionals, custodians, staff members and even superintendent Laura Lisiscki on streets around the neighborhood Wednesday afternoon. Despite the at-times heavy rain, they stood under their umbrellas and spoke with parents and students alike as they got off buses and made their way to their homes.
Staff members worked in two shifts, with one group standing guard from 2-3:15 p.m. and the other working from 3:15-4 p.m. Lisiscki said their presence seemed to reassure students and parents that no other student would fall victim during the afternoon.
"They've been happy to see us," she said.
"There's been a lot of parents coming by, they've been walking the kids home. There's been a lot of parents on the porch and saying hello to us and thanking us for being out here and just having their eyes on the kids."
Kyle Feldscher covers cops and courts for AnnArbor.com. He can be reached at kylefeldscher@annarbor.com or you can follow him on Twitter.