Posted on
Thu, May 2, 2013 : 5:59 a.m.
Woman accused of killing baby while driving drunk is free on bond
By John Counts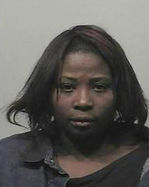 Courtesy of WCSO
A 37-year-old Ypsilanti Township woman accused of killing her 6-week-old son while driving drunk was released from jail on a personal recognizance bond when arraigned on homicide charges earlier this month, court records indicate.
Constance Johnson was charged April 5 with homicide with a motor vehicle, involuntary manslaughter, operating while intoxicated causing death, operating with a suspended license causing death, second-degree child abuse and open alcohol container in a vehicle.
Police say Johnson was driving a mini-van east on Foley Avenue around 5:30 a.m. Oct. 7 in Ypsilanti Township when she struck a pickup truck parked on the side of the road. Johnson and her 6-week-old son, Isiah Caddell, were the only two people in the vehicle. The baby was in a standard car carrier, but it was in the front seat and not strapped in, said Sgt. Geoff Fox of the Washtenaw County Sheriff's Office.
The impact caused the air bags to deploy.
"The child suffered head trauma," Fox said.
As paramedics and police were responding to the accident, dispatch received a call from a home in the 1300 block of Andrea Street right around the corner regarding a baby not breathing. Responders found the 6-week-old was alive but injured. The baby was transported to the University of Michigan Hospital and remained there until he died on Oct. 13 due to skull fractures and brain injuries, Fox said.
Investigators at the scene quickly discovered the car accident and medical call were connected. Johnson was tested for chemicals at that time, but police did not immediately release the results.
Johnson was arrested April 4 and charged the next day. Fox said police needed time to investigate the case and get test results before charges could be brought.
Magistrate Elisha Fink gave Johnson a $1,000 personal recognizance bond at arraignment. Such a bond allows the defendant to get out of jail on a promise to appear in court. The defendant has to pay the bond to the court if he or she fails to appear.
Johnson was also appointed a public defender at arraignment.
On April 23, Johnson stood mute to the charges and waived her preliminary examination. Her bond was continued by Judge Charles Pope at that hearing, according to court records. She is set to appear before Judge David Swartz on May 30 for a pretrial hearing.
John Counts covers cops and courts for AnnArbor.com. He can be reached at johncounts@annarbor.com or you can follow him on Twitter.