Posted on
Sat, Jun 8, 2013 : 11 a.m.
Woman charged with falsely reporting kidnapping and sexual assault will head to trial
By John Counts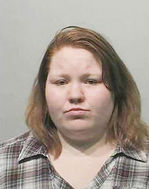 Courtesy of Washtenaw County Jail
A 21-year-old Dundee woman accused of lying to police about being kidnapped and sexually assaulted last November had her case bound over to circuit court by Judge Joseph Burke during a preliminary exam in the 14A-1 District Court Tuesday.
Amber Lynn McCain is charged with one count of false report of a felony for telling Pittsfield Township police a man drove her against her will to a secluded spot by Ann Arbor Municipal Airport and sexually assaulted her.
Police determined the allegations to not be true and McCain was arraigned on the charge of filing the false complaint May 28.
Burke made the decision to bind over the case after hearing testimony from Pittsfield Township police Detective Jason Hohner, who was assigned the case.
Hohner testified McCain told police a man named "Caleb," who she knew from cosmetology school in Monroe, came to pick her up the night of Nov. 4, 2012 at her home in Dundee. He had flowers and tried to kiss her, Hohner testified she told police.
"She said she wasn't that kind of girl," Hohner said.
McCain told police she was acquainted with "Caleb," but not enough to know his last name.
The two decided to go to see a movie together at Rave Motion Pictures, located at 1400 Carpenter Road in Pittsfield Township, according to the testimony. After the movie ended, McCain told detectives "Caleb" drove her to a dirt driveway near the airport at Ellsworth Road and South State Street and sexually assaulted her, according to Hohner's testimony.
When she tried to get away, "Caleb" held her by the wrists
McCain told police she punched him and made a desperate escape to a nearby Speedway gas station.
After taking the report, Hohner began his investigation.
"I scoured every database I knew of looking for anything that would find out the identity of 'Caleb,'" Hohner said. "I couldn't find anything that indicated who this person was."
At a follow-up interview in December, Hohner informed McCain the charges related to the alleged incident were very serious: unlawful imprisonment and first-degree criminal sexual conduct — life offenses.
Still, Hohner said McCain stuck by her story — at first.
Police had obtained video from the Speedway gas station that night. The surveillance tape revealed a very different story than the one McCain was telling, Hohner testified: she did not walk to the gas station, but was dropped off from a different direction than the airport, and she appeared to cheerily chat with the clerk.
"She appeared happy," Hohner said. "She was smiling. I would call it grinning ear to ear."
When police showed McCain the pictures they had of her smiling at the gas station, her story began to change, Hohner testified. McCain said the assault took place, but she called her friend, "Raffi," who picked her up and dropped her off at the gas station where she could call police. "Raffi" didn't stick around because he was afraid of getting deported, according to testimony.
But the story would change yet again. "Caleb" existed, McCain confessed, but had nothing to do with the incident as reported, according to testimony.
"In the end, she said the suspect really was 'Raffi'," Hohner said.
"Raffi," who police also were unable to identify or contact, and McCain watched the movie "Wanted" at his Ann Arbor townhouse before he drove her to the Speedway, according to testimony. It was while they were watching the movie in his bedroom the sexual assault took place, McCain told police.
"She said she didn't want him to get deported," Hohner said was the reason she substituted "Caleb" with "Raffi."
Hohner said McCain could not provide a last name for "Raffi."
McCain's public defender Timothy Niemann told the judge McCain's cousin was the one to urge her to report the sexual assault. In fact, it was her cousin's wife who actually called police to report the assault by "Raffi."
Niemann argued it still was a sexual assault regardless of whether it was done by a different suspect under different circumstances. The case, he said, had been handed over to the Ann Arbor Police Department.
Ann Arbor police Detective William Stanford told AnnArbor.com a report had been generated, but the case was not being actively investigated.
A pretrial date was set for July 17 in the Washtenaw County Trial Court. McCain remains free on a personal recognizance bond. The charge of a false report of a felony is a crime punishable by up to four years in prison, a $2,000 fine or both.
John Counts covers cops and courts for AnnArbor.com. He can be reached at johncounts@annarbor.com or you can follow him on Twitter.