Woman describes alleged crack-cocaine fueled rape and kidnapping at court hearing
Posted on Tue, Jun 19, 2012 : 2:52 p.m.
The Ypsilanti Township man accused of brutally raping and kidnapping a woman during a crack-cocaine fueled assault in May will face trial, a Washtenaw County judge ruled Tuesday afternoon.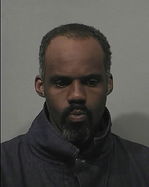 Courtesy of the Washtenaw County Sheriff's Office
David Neal, 38, is facing life in prison for an incident described in horrifying detail by the victim during a preliminary exam on Tuesday.
The woman, who AnnArbor.com is not naming because she is the victim of a sex crime, told District Court Judge J. Cedric Simpson Neal held a knife to her throat throughout rapes that lasted from around 1 a.m. until about 8 a.m.
The victim said she had picked up Neal after he called her looking to score some crack cocaine.
The two went to a dealer's house and the victim paid for the drugs with Neal's money, she said, before smoking a bit in the car.
After consuming more drugs at the home, the victim was in the process of ordering another round of crack when Neal snuck up on her from behind and held a utility knife to her throat, she said.
"He said, 'Lie with your face on the floor and take your clothes off or I'm going to stick you,'" she testified.
Neal faces two counts of first-degree criminal sexual conduct and one count each of assault with intent to murder, assault with intent to do great bodily harm less than murder, assault with a dangerous weapon, unlawful imprisonment and interfering with the report of a crime. He will be in front of Washtenaw County Trial Court Judge Melinda Morris at 1:30 p.m. July 30 for a pretrial hearing.
The hearing Tuesday at the 14A-1 District Court in Pittsfield Township was a grinding affair, leaving the victim and some members of the gallery in tears while she answered questions from Washtenaw County Assistant Prosecutor Robyn Liddell and Washtenaw County Assistant Public Defender Lorne Brown.
The exchanges between the victim and Brown grew heated enough at one point that Simpson agreed to a 15-minute recess in order for both sides to calm down and resume the hearing.
The victim said she met Neal at the Dairy Mart in Ypsilanti Township in April or early May and barely spoke to him before he called her up about four days later asking if she could get crack for him. She said she didn't immediately say yes, but Neal was persistent enough that her fears about him being an undercover officer subsided and she made the score. Before the night in question, she arranged two drug deals for Neal, she testified.
At about midnight on May 17, she picked him up at the home in the 1300 block of Nash Avenue in the West Willow neighborhood of Ypsilanti Township, she said. The two had smoked together on two previous occasions at the home, but this was the first time the victim picked up Neal alone, according to the victim.
She drove them to meet up with her drug dealer at the time and purchased the rocks, testifying that the two smoked a little bit in her car on the way back to Nash Avenue. Once they got back, they smoked the rest of the crack, she said, and that's when Neal approached her from behind with the knife.
Neal raped her repeatedly until he got a cramp in his leg, she said.
"I was begging him to let me go, I won't say anything to anyone," she said. "He told me to shut up or he was going to stick me."
Neal then went to sleep with the knife in his hand, waking up every time the victim would so much as move, she said. At one point, she asked him if she could call her family to make sure they weren't worried about her, but she instead called 911, she said.
Liddell played the 911 tape for Simpson, with a voice identified as the victim's screaming repeatedly, "Please let me go!" The victim said Neal ripped the phone from her hand and threw it down a flight of stairs, breaking it.
In retaliation for this call, which came at about 8:07 a.m. May 17, Neal allegedly tied the woman up with an extension cord around her feet and duct tape around her hands, mouth and eyes. He also choked her to the point of unconsciousness, she said.
Deputies actually responded to the home and knocked loud enough on the door that the victim reported hearing them, but the deputies eventually left when investigation of the premises led them to believe the home was abandoned.
A few hours later, Neal grabbed the victim and led her outside to the garage behind the home, she said. The victim testified Neal pushed her over a ledge and heard something close over her, quickly realizing she was in the trunk of a car.
"He pushed me through a window of the garage and I could smell fumes," she said. "Next thing I knew I was pushed over something and something closed over me and I realized I was in a trunk."
The sweat on her cheeks eventually made the duct tape around her mouth slide down enough so that she could chew through the tape binding her hands together, she said. Eventually escaping the car by kicking the back of the seats hard enough that they separated from the car, the woman ran naked to a neighbor's house where she hid until police responded to the area, according to the victim.
Detective Michael Babycz said the victim suffered a laceration to the side of her neck, bruising on her forehead and cheeks and an abrasion on her right knee. He said the home appeared to be under repair and Neal was living there while he worked on it.
The upstairs bedroom where the alleged rapes took place still had an extension cord, utility knife, steak knife, household scissors, clippers and duct tape in it when Babycz went inside to investigate, he said.
Rochelle Ford, the neighbor who called police when her daughter discovered the victim on their front porch, testified the victim was "off in her own world" when she begged them to call police.
"She was calm, she looked like she was in outer space somewhere," Ford said. "She wasn't screaming, she wasn't crying. She was just begging us to call 911."