Bicyclist in critical condition after being struck in Ann Arbor crosswalk Monday
Posted on Tue, Aug 14, 2012 : 2:44 p.m.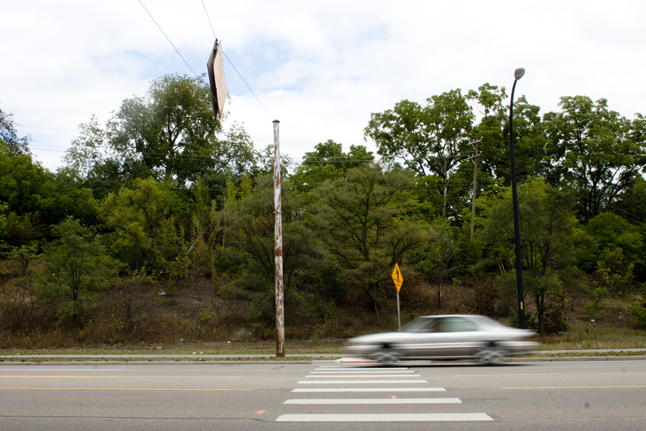 Jeffrey Smith | AnnArbor.com
This story has been updated with details on the collision from an eyewitness.
A 55-year-old Ann Arbor woman is still in critical condition after being struck by a vehicle while attempting to cross Washtenaw Avenue at Platt Road Monday evening.
Ann Arbor police Sgt. Bill Clock said the woman was attempting to ride her bike across the crosswalk, which is marked but does not have any traffic lights. He said the 25-year-old Ann Arbor man driving did not stop before hitting the woman but did so after the collision.
The man was driving a 1999 Ford sport utility vehicle, Clock said. The speed limit in the area is 45 miles per hour and Clock said a speed estimate was being done as a part of the investigation into the incident.
"There's no indication of excessive speed there," he said.
The accident stopped traffic in both directions after it occurred about 5:40 p.m. Monday evening. Numerous bystanders stopped to provide aid to the woman, who was transported by Huron Valley Ambulance to the emergency room at University of Michigan Hospital.
While there are no traffic lights at the crosswalk, it is marked and, under Ann Arbor city ordinance, motor vehicle drivers are supposed to stop for pedestrians who are in the crosswalk. When the ordinance went into effect last year, there were many reports of fender-benders when drivers didn't notice others had stopped for pedestrians, but those reports had tapered off in recent months.
Michelle Stephens saw the incident and said it was a "terrible thing to witness." Stephens said she was westbound on Washtenaw Avenue approaching Platt when she saw the woman start to cross the street. She said the SUV hit the woman broadside, sending her and the bike about seven feet in the air before landing on the road.
"She was laying on her side and I didn't see her move at all," Stephens said in an email to AnnArbor.com. "The man who was driving the SUV stopped immediately after screeching into the left-turn lane and jumped out of his car to check her, and the cars immediately behind him stopped and got out to help as well."
Traffic quickly backed up on eastbound Washtenaw Avenue, and Huron Valley Ambulance arrived on scene to transport the woman.
Clock said the investigation into the incident is ongoing and to this point, no charges have been filed. He said the report would be turned over to the Washtenaw County Prosecutor's Office when the investigation is complete for possible charges against the driver.
Stephens pointed to the dangerous nature of the crosswalk, situated just after the crest of a hill that makes it hard for those in the crosswalk and those driving to see what's coming.
"The driver would have had time to stop or avoid her if he was very alert - the car next to him in the right lane certainly had time to stop - but if he even looked away for an instant that would have been enough time to not see the girl crossing," Stephens said. "With the clouds and the rain, plus rush hour traffic, that area is a disaster."