WXYZ:

Woman, 2 children found dead in home of man killed in head-on crash

Posted on Thu, Aug 16, 2012 : 11:30 a.m.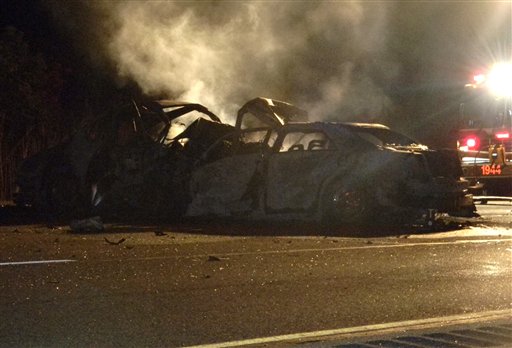 AP photo provided by Indiana State Police
Editor's note: This article has been updated with information from The Associated Press.
Van Buren Township police found a woman and two children stabbed to death Thursday morning at the home of a man who was killed earlier in a wrong-way head-on crash on Interstate 94 in Indiana, media reports indicate.
Michael Vanderlinden, 38, who lived on Anna Drive, died when his car crashed into another vehicle about 1:30 a.m. on I-94 near Michigan City while he was driving the wrong way, television station WXYZ reported. The other driver, Juan Nelson Jr., 45, of Portage, Ind., also died in what was described as a violent crash, The View newspaper in Belleville reported.
The bodies found in Van Buren Township were those of his wife and two children, the View reported. They were discovered when authorities went to notify the family of the crash. Television station WDIV reported the children were 4 and 8 years old.
Police who went to the home after being notified of the crash found a door ajar and, when no one responded, went into the home and found the three bodies in bedrooms, The Associated Press reported. Police said the case was being investigated as a homicide, AP reported.
Police said they found a weapon in the home, but didn't indicate what kind. It was too early to speculate about what happened at the home, Police Capt. Gregory Laurain told AP. Authorities were going through the home about 25 miles west of Detroit, he said, collecting computers and voice messaging equipment.