Posted on
Fri, Jul 29, 2011 : 11:53 a.m.
Ann Arbor rapist prompts heightened security among women near campus
By Lee Higgins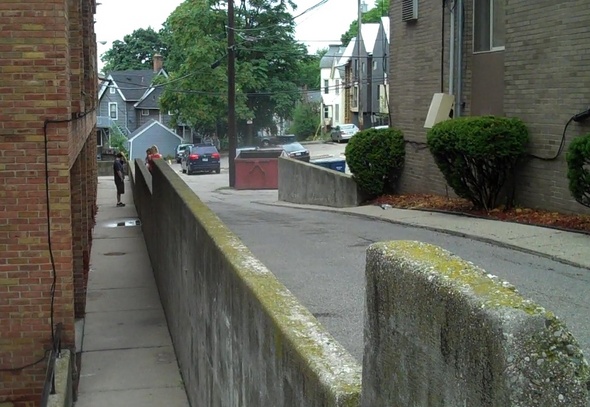 Emily Zinn looked out the window of her Ann Arbor apartment on South State Street early July 18 after hearing a woman crying hysterically. The woman was leaning against a wall, her knees tucked into her chest.
"Help me," the woman cried out. "Help me. He's gone. I'm all alone."
The 18-year-old woman had been dragged behind a wall and raped about 12:40 a.m. as she was walking down a driveway between two apartment buildings, Zinn said. The victim's friends rushed to her aid.
"It's awful," Zinn said. "It's scary. I felt horrible we couldn't have done something for her."
Zinn said her proximity to the victim — and the fact that she witnessed her pain afterwards — made her realize: it could have been her.
"All I had to do was walk out my front door."
That attack on South State was the fourth of 6 attacks on women in the city that have put those who live and spend time near downtown Ann Arbor on edge. Many have changed their behaviors to increase their chances that they may avoid an attack.
Zinn, 25, now carries mace.
"I don't go outside by myself at night," she said. "I'm just really, really cautious when I'm leaving the apartment."
University of Michigan student Matthew McAnelly was in bed, studying when he also heard the victim crying outside his apartment window after the attack.
"When I came outside, the parking lot was clear and the guy must have taken off," he said. "He'd apparently thrown her over the ledge. She was pretty hysterical."
Six women walking alone have been attacked since July 15. Police believe one or two men are responsible. In the latest attack, which occurred Tuesday in the same block on South State Street, a 21-year-old University of Michigan student retrieved something from her car about 11:30 p.m. and then was grabbed from behind and fondled by a man before breaking free.
A multi-jurisdictional work group has been set up to investigate the attacks, Ann Arbor police spokeswoman Lt. Renee Bush said this morning. The group comprises the Ann Arbor Police Department, University of Michigan Department of Public Safety, Washtenaw County Sheriff's Department, Michigan State Police and FBI.
Melissa Johnson, 23, who is going to be a senior at U-M in the fall, said she doesn't think police are doing enough. Roughly 22 hours after the first rape, a woman was raped in an elevator in the Liberty Square parking garage.
"They should have more police or more security around the parking structures," she said. "I don't see increased police anywhere. As soon as it turns dark, I don't want to be outside."
Martha Fedorowicz, 21, who graduated from U-M in the spring, said she only walks on major roads now and doesn't go anywhere by herself at night.
"It's definitely really disheartening to have all these attacks in a place that's usually safe," she said.
Monica Ramswamy, 20, who is going to be a junior at U-M in the fall, lives near where the rape occurred on South State Street and was on her porch with friends when police flooded the area that morning. She also carries mace.
"I tend to travel with friends a lot more," she said. "I definitely feel more comfortable when I have a guy with me now."
Ann Arbor resident Cynthia Zirles said she's requested not to work at night.
"I'm afraid of walking at night by myself, even just taking public transportation, going from public transportation to my apartment," she said.
Staff Reporter Juliana Keeping contributed to this report.
Lee Higgins covers crime and courts for AnnArbor.com. He can be reached by phone at (734) 623-2527 and email at leehiggins@annarbor.com.