Posted on
Mon, Aug 22, 2011 : 5:49 a.m.
Ypsilanti Township man accused of human trafficking may have victimized others, prosecutors say
By Lee Higgins
An Ypsilanti Township man accused of trafficking 4 of his relatives into the U.S. from Africa and forcing them to work at his home may have victimized others, federal prosecutors said in a recent court filing.
Jean-Claude Kodjo Toviave, 42, has been seeking release from federal custody as he awaits trial on charges of forced labor, human trafficking, visa fraud, mail fraud and bringing in and harboring aliens. He also faces state child abuse charges.
Toviave, who is originally from the West African country of Togo, is accused of trafficking his relatives into the U.S. five years ago and severely beating them or depriving them of food if they failed to complete household chores or do homework. He is currently being detained without bond.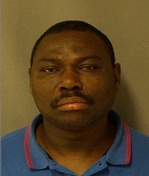 U.S. Marshals Service
His attorney has argued that Toviave does not pose a danger to the community and should be released pending trial. Prosecutors disagree and said in the Aug. 12 filing that an Ypsilanti area woman recently came forward, alleging Toviave abused her and her children, beating them with "a stick and television remote."
The woman detailed the alleged abuse when she was interviewed Aug. 5 by Immigration and Customs Enforcement agents. So far, no charges have been filed in relation to those allegations.
The filing said Toviave placed unrealistic demands on his 4 relatives, whom he passed off as his own children, making them complete daily chores. According to the document, the chores included cooking, cleaning, laundry, ironing and vacuuming. When they failed to complete the chores correctly, the relatives would be "disciplined harshly and physically abused," the filing says.
The relatives described "multiple beatings with broom handles, ice scrapers and toilet plunger handles to their hands, arms and bodies," the document says.
Prosecutors argue in the filing that Toviave is a flight risk and danger to anyone with whom he has a personal relationship who fails to "comply with his demands."
Toviave was granted political asylum in 2002. Immigration and Customs Enforcement agents said Toviave put false information on immigration documents and misrepresented the ages of his relatives and his relationship to them.
Toviave formerly worked as a janitor at the University of Michigan and part-time tennis instructor at the Huron Valley Tennis club. It's unclear when a decision will be made on whether he will be released as he awaits trial.
Lee Higgins covers crime and courts for AnnArbor.com. He can be reached by phone at (734) 623-2527 and email at leehiggins@annarbor.com.