Posted on
Wed, Mar 27, 2013 : 5:58 a.m.
Ypsilanti Township woman found guilty of animal cruelty after tying dog's mouth shut
By Amy Biolchini
An Ypsilanti Township woman has been found guilty of animal cruelty after tying her Alaskan Husky's mouth shut with twine, the Humane Society of Huron Valley announced Tuesday.
The dog's owner, Crystal Smith of Ypsilanti Township, was found guilty of animal cruelty March 21 in Judge Charles Pope's courtroom in the 14B District Court.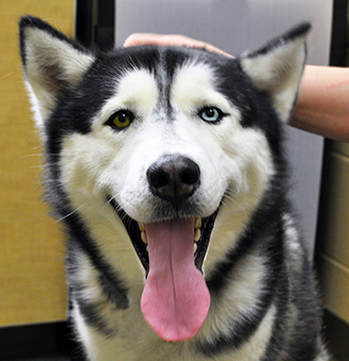 Courtesy of HSHV
Severely underweight, dehydrated and with a large wound on his side, the dog was taken from Smith in August as a part of the investigation, said
Deb Kern
, communications director for HSHV.
Smith kept the dog chained up outside her Ypsilanti Township residence, said Matt Schaecher, director of animal cruelty for HSHV.
The dog got loose in August and a neighbor reported him to HSHV.
While in court, Smith admitted to tying the dog's mouth shut with twine, according to the HSHV. The dog's injuries were from a burn, Smith said, but she did not elaborate on where they came from, the humane society said.
The dog has been under the care of HSHV for the past 216 days over the course of the cruelty investigation.
The time it took to prosecute the case was average, Schaecher said, noting there were several adjournments in the case.
Typically, animal cruelty charges like the one Smith has been accused of would carry a 12-month probation sentence. HSHV asks for no contact with animals and for community service to be a part of the sentencing, Schaecher said.
Smith is scheduled to be sentenced May 2.
Under the care of the shelter for the duration of the cruelty investigation, the dog gained eight pounds in his first eight days in the care of HSHV.
Other injuries and medical problems related to neglect required lengthy medical treatment.
Kern said the dog is well-adjusted and playful.
The dog will now be up for adoption at the HSHV. Call HSHV (734) 661-3511 for more information, or visit the organization's website.
Amy Biolchini covers Washtenaw County, health and environmental issues for AnnArbor.com. Reach her at (734) 623-2552, amybiolchini@annarbor.com or on Twitter.