With slideshow:

Crowds flock to Ann Arbor Art Center's 30 x 30 art fundraiser

Posted on Sat, Feb 20, 2010 : 5:10 p.m.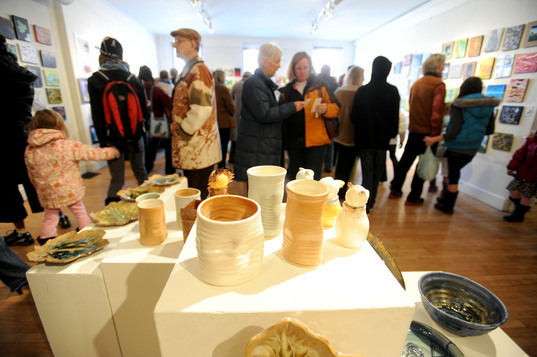 Angela Cesere | AnnArbor.com
The anticipation was palpable as people waited in line today for the Ann Arbor Art Center's first 30 x 30 art fundraiser.
Nearly 100 people filled the downstairs of the center at 117 West Liberty St., hoping for the chance to purchase their first choice artwork for $40 when it went on sale at noon. The only rule: You take it down, you buy it.
"It's a pretty nice deal," Ann Arbor resident Joan Masters said. "It's a nice price for a piece of art."
Within an hour, the center had sold about 140 paintings out of the approximately 750 being offered.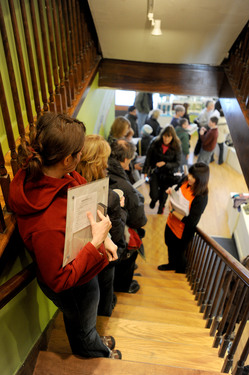 Angela Cesere | AnnArbor.com
"I'm just blown away," said Marsha Chamberlin, the center's president and CEO. "This is so cool."
Organizers provided 8 x 10 inch canvasses to 30 artists and asked them to create 30 pieces of art each. The work went on display Thursday in anticipation of today's sale, giving patrons enough time to form a plan of attack. Half the proceeds benefit the center's Art for Kids Scholarship program, with the other half going to the artist.
"I knew part of the funding would go to art programming for the children, and I thought it would be a good incentive to paint," Canton artist Suzy Adra Mazloum said.
Mazloum's collection titled "Irrational" was a series of paintings experimenting with geometric shapes and colors, which she said was inspired from Japanese and ancient art.
Other collections included images of nature, people or abstract colors and figures. And while most pieces were paintings, some artists opted to display drawings and photographs.
Ann Arbor resident Barb Eberbach walked away with five paintings and a smile on her face.
"When I saw (the paintings) were $40, that just brought me in," she said. "It was a good idea, it's something different."
The work will remain on sale until all the pieces are gone or until the end of March.