Posted on
Wed, May 23, 2012 : 5:59 a.m.
Daughter of store owner robbed at gunpoint: 'Our family has been robbed over and over again'
By Ryan J. Stanton
Esther Choi says there have been countless times when members of her family had their lives threatened while simply trying to run their Ann Arbor business.
Choi, whose family owns the Broadway Party Store at 1027 Broadway St., said an April 9 incident in which her father was robbed at gunpoint was the final straw.
"This store has been in my family for over 30 years, and during these 30 years, our family has been robbed over and over again," she said. "In the last 10 years, my father has been robbed at least six times, all involving some sort of deadly weapon."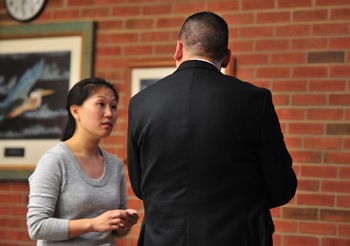 Ryan J. Stanton | AnnArbor.com
Speaking before the Ann Arbor City Council Monday night, she recalled a time when her grandfather, the original store owner, was taken to the hospital after being attacked and robbed. She recalled another time when her father chased after perpetrators, and when her mom had a knife held to her neck.
"We need your help. We need more protection and focuses on our cases," she said. "These are not petty crimes. These are life-threatening, violent crimes."
Choi, visibly frustrated over what she sees as a lack of resolve in those cases, asked council members to help address what's happening.
"I'm imploring you to please help me devise a plan to make this area of Ann Arbor safer," she said, calling for more police presence in the area. "We are asking AAPD to please focus on our cases in order to bring these criminals to justice."
Council members made no public remarks in response to Choi, who spoke during the general public comment period. Later speaking against a proposal to add more police officers in the city's budget, Mayor John Hieftje noted crime in Ann Arbor is trending downward.
John Seto, the city's interim police chief, spoke with Choi for several minutes during a break in the meeting at one point.
Seto said he was planning to set up a meeting with Choi and her family to update them on the case. He said he couldn't speak specifically about the April 9 incident.
"I'm going to meet with them and I'm going to meet with the detective and the officers and we'll see what we can do," Seto said. "We'll get some attention in the area."
Ann Arbor police last month released the security camera footage of the brazen robbery at the party store, showing a masked man pointing a sawed-off shotgun directly at Choi's father, who was getting ready to close the store for the night at the time.
The video shows two men walking up to Choi's father, one wearing a mask that looks like a skull and holding a shotgun, and taking cash and liquor.
The first man was described as black, about 5-feet-10 inches tall and thin, wearing a white coat with a white mask, police said. The second man was described as black, about 5-feet-5 inches tall and wearing a gray mask, police said.
Seto said he couldn't say with certainty whether there's a crime problem in the area where the store is located, just a short distance from downtown over the Broadway bridges.
"I'd have to look into that, but I don't believe so at this time," he said.
Choi, who said her family is deeply rooted in Ann Arbor, was critical of the Ann Arbor Police Department in her remarks Monday night. She said it sometimes takes up to 25 minutes for police to arrive, which she questioned given that the police station is 0.7 miles away.
Once they arrive on the scene after a robbery, Choi said, the police take descriptions, collect evidence and then leave, never to return with a positive resolution to the case.
Choi said her father has called the police department for help each time after being robbed, even providing evidence such as a suspect's finger prints.
"Each time, the police failed to find the suspects involved," she said, adding her family members have tried to take matters into their own hands to defend themselves.
"We have been residents of Ann Arbor for over 30 years," she said. "We know that the Ann Arbor community does not stand for this kind of behavior in our city."
Ryan J. Stanton covers government and politics for AnnArbor.com. Reach him at ryanstanton@annarbor.com or 734-623-2529. You also can follow him on Twitter or subscribe to AnnArbor.com's email newsletters.