Posted on
Wed, Dec 5, 2012 : 1:22 p.m.
Dave Brandon on Big House Big Heart: U-M would rather organize its own charity run
By Kellie Woodhouse
Lon Horwedel | AnnArbor.com
Related Article: Canceled: Big House Big Heart race forced out of Michigan Stadium
Related article: Big House Big Heart coordinator 'baffled' by why race can't finish in Michigan Stadium
University of Michigan athletic director Dave Brandon told 1290 WLBY radio host Lucy Ann Lance Wednesday morning that he supports hosting a fundraising race that ends at Michigan Stadium, but says he no longer wants to partner with Champions for Charity.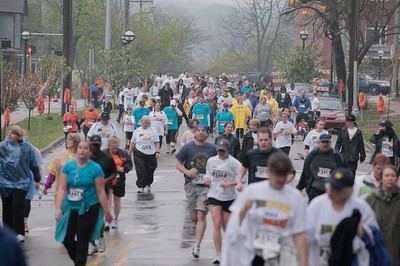 Joseph Tobianski I AnnArbor.com
For six years
Champions for Charity
organized the
Big House Big Heart
run, which ended in the stadium. On Tuesday Champions for Charity
announced
the 2013 race would be canceled because the U-M athletic department no longer wanted to be involved.
"As it relates to putting our name on it and having our facility be used, we'd rather go in a different direction and that's for reasons that we all feel are important and valid and the community should know we are going to continue to support charitable causes," Brandon offered, also saying: "We think a race that ends in the Big House is a good idea."
In his interview with Lance, Brandon said the university would rather organize a charity run through its own channels. He said when partnering with a charitable organization, the athletic department looks at an organizations's management structure, financial transparency, overhead and ability to work with the department well.
"If we can get more money routed to the charities because there isn't a profit motive, we're always going to prefer to go that route," he said. "Since we are in the business of athletics we know how to put on athletic events, because that's what we do. So if we can come up with ideas and ways that we can put on events and more net dollars and proceeds go to the charities that are a part of it, then we think that's better for everybody involved."
In an interview with AnnArbor.com Tuesday, Champions for Charity director Andrea Highfield said she told athletic department administrators they could absorb the event as their own, but they declined.
"I even offered to say 'Hey does U-M athletics want Big House Big Heart, you can have it. We'll do all the work and you can have the profit,' " she said. "It's not for any financial gain or profit at all, it's a service on our part."
Listen to the full Dave Brandon interview.
Kellie Woodhouse covers higher education for AnnArbor.com. Reach her at kelliewoodhouse@annarbor.com or 734-623-4602 and follow her on twitter.