Posted on
Thu, Nov 29, 2012 : 6:27 a.m.
University of Michigan administrators say Big Ten expansion makes financial sense
By Kellie Woodhouse
As the Big Ten expands, top University of Michigan administrators continue to praise the change as a practical move to stakeholders and longtime fans.
University of Maryland's entrance into the Big Ten was made official Nov. 19 and Rutgers University is also anticipated to join the formerly Midwestern conference, bringing conference membership to 14 programs.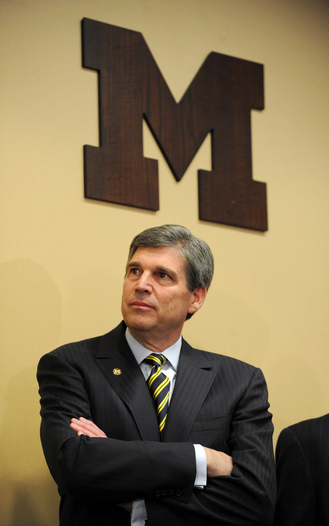 Angela J. Cesere | AnnArbor.com
The expansion reflects a national shift among conferences by schools that are looking for sweeter media packages in order to subsidize bleeding athletic departments and by conferences that are looking to widen their scope and further increase revenue.
Maryland and Rutgers give the Big Ten an East Coast presence, exciting a relatively untapped fan base. Based on past performance, the two teams are likely to boost the win ratios for many of the Big Ten's existing members. Maryland football had a 2-10 record last year.
Earlier this week Michigan athletic director Dave Brandon said conference expansion is far from over. In fact, Brandon is already predicting a sweet spot for growing conferences.
"I don't think it's over," Brandon said candidly during a Monday forum hosted by the Washtenaw Economic Club. "Large conferences are going to get larger; 16 seems to me to be a target for many conferences."
During a Monday meeting with faculty leaders, U-M President Mary Sue Coleman also said expansion was sensible, given the national conference shifting of late and a slowly changing Midwestern demographic.
The conference, Coleman said, would never "expand for expansion's sake."
"[If you consider] the 10- to 20-year time frame, the Midwest is shrinking, the coasts are expanding," Coleman said, continuing her outspoken support for the expansion. "It is about reaching our alums. We've got a huge number of alums on the East Coast."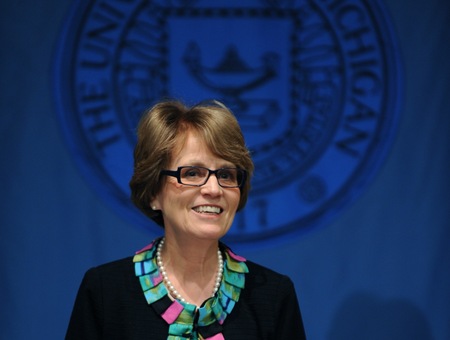 AnnArbor.com file photo
Tapping into the coasts will further increase Big Ten media payouts, which were reportedly around $24 million per school last year.
Meanwhile Maryland will significantly increase its sports revenue, which has been declining in recent years. Revenue decreases prompted the school to cut seven varsity sports from its roster in late 2011. The Washington Post reported that, without a move to the Big Ten, Maryland's annual deficit was projected to hit $5 million this year and balloon to a possible $17 million by 2017. Sports Illustrated has called Maryland's athletic department one of the "most dysfunctional athletic departments in the country" in need of a big-time save.
"The reason behind it is very simple. The college athletics model is a very, very challenging one," Brandon said, further adding that expansion is often due to the bottom line: money and the need for more of it.
Sports Illustrated reported that, according to Big Ten commissioner Jim Delaney, Maryland will earn an additional $100 million in media profit by 2020 because of its conference switch.
"Why would they need the money? Because these programs are very, very expensive. The amount of capital that this business consumes is just unbelievable," Brandon continued.
Expensive indeed. Division I athletic departments must pay to charter airplanes, fund hundreds of athletic scholarships, exponentially growing coaches' salaries, practice facilities, competition facilities, doctors and physical therapists, academic support and more.
"Presidents of universities and colleges today are under an enormous cost pressure and [they have] very few levers they can pull to immediately create new revenues," Brandon offered. "Well, what you can do is get a better media deal."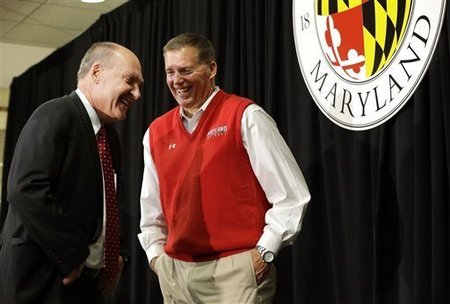 AP photo
Yet while administrators seem fully on board with expanding the Big Ten, it's clear that the fans and indirect stakeholders of the tradition-rich Big Ten are still adapting to the change, which begins to take effect in 2014.
Brandon's remarks came after a forum attendee asked him about the "change in the fabric" of college sports and the trend toward "potential super conferences going forward."
Coleman said she's heard concerns that Rutgers has a lackluster football following and tradition. "They might if they were playing us," Coleman said as a response. She also responded to a question about whether the expansion was solely about money by assuring that the Big Ten was "thoughtful and deliberate" in making the decision.
"Nobody does anything in isolation," Coleman offered.
"At the end of the day, the geography made sense, the demographics made sense, the quality of the institutions made sense."
Kellie Woodhouse covers higher education for AnnArbor.com. Reach her at kelliewoodhouse@annarbor.com or 734-623-4602 and follow her on twitter.