Posted on
Fri, Apr 26, 2013 : 9:05 a.m.
Daycroft Montessori School donating $1,000 to rebuild Ypsilanti's Rutherford Pool; Pastel art demo set for Saturday at Riverside Arts Center
By AnnArbor.com Staff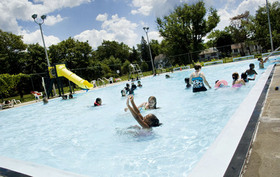 AnnArbor.com file photo of Rutherford pool

From Daycroft Montessori School donating $1,000 to rebuild the Rutherford Pool in Ypsilanti to an art demonstration at the Riverside Arts Center on Saturday, here's a roundup of some of the stories posted on AnnArbor.com's Community Wall this week:
By: Chris Kochmanski: Daycroft Montessori School of Ann Arbor Pitches In to Help Rebuild Ypsilanti's Rutherford Pool
Daycroft Montessori School (www.daycroft.org) of Ann Arbor has pledged $1,000 to help rebuild the popular Rutherford Pool at Recreation Park in Ypsilanti.

By: Ann Arbor Women Artists: Ann Arbor Women Artists Pastel Demonstration
Saturday, April 27, Riverside Arts Center at 76 N. Huron in Ypsilanti - Carolyn Weins, Pastel Artist - Artist Demonstration - 3-4:30 pm. Come join us for an artist demonstration with Carolyn Weins, Pastel Artist.
By: Mary Alice Smith: Let's Get Social, Saline
By: JCC ECC PTO: JCC Early Childhood Center PTO to host Mom to Mom Sale
By: FreedomSpeech: The Boston Cover-Up & the Reasons You Should Care
By: Sara: Drone flight over Ann Arbor or UFO?
By: Nancy: Third Annual Chelsea Craft Fair and Chelsea Home Show May 4 and 5 at Fairgrounds
By: SkylineTheatre: Skyline Theatre to Perform AIDA, a Timeless Love Story with a Modern Musical Score
By: JRR: A surprise proposal at the U of M Lydia Mendelssohn Theater - UMGASS Pirates of Penzance
By: melder1215: LIve Below The Line
By: Lucia Martin: What to Do When You've Lost a Pet
By: Jeremy Reed: Lincoln Spanish Immersion Holding Information Nights for Interested Families
By: S_A2: Don't Let Ann Arbor Reduce School Quality - DoLARSQ
By: Linda Tubbs: Local Volunteer Group Elects New Leadership and Local Volunteers Profiled for National Volunteer Week
By: Jamie Coker: Ann Arbor Jaycee Foundation Grants
By: Dawn Farm Education Series:
Domestic violence and alcohol/other drug use - is there a relationship
By: LegusLaw: Ann Arbor Based Organization Supports and Volunteers 2013 Tour de Cure with American Diabetes Association
By: Donna DeButts: Ypsilanti District Library Celebrates Latin Culture on El Día de Los Niños & El Día de Los Libros
By: Jake Morris: Higher Cigarette Taxes Bring Complications and Opportunities
AnnArbor.com's Community Wall is a spot for local people to post local stories, news and announcements. To post a story, sign in to AnnArbor.com, then go to www.annarbor.com/community and use the Got News? Tell Us function at the top to submit your news. If you have a photo to add, e-mail it to us at em>community@annarbor.com, and we'll insert it into your story.