Posted on
Thu, Aug 26, 2010 : 3 p.m.
DDA to vote on $50,000 grant for Ann Arbor Skatepark next Wednesday
By Ryan J. Stanton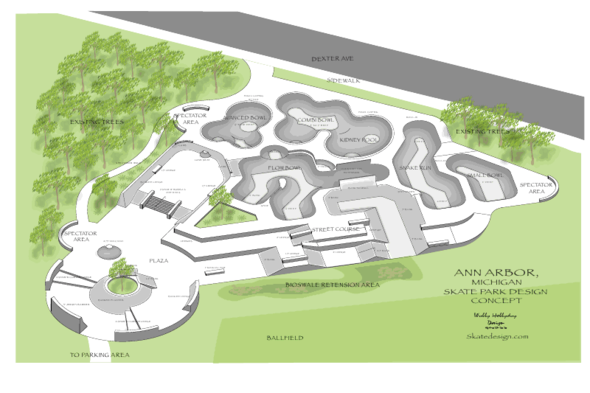 The Ann Arbor Skatepark initiative could get a $50,000 boost from the Downtown Development Authority under a proposal by DDA board member Newcombe Clark.
After initially discussing the idea during a committee meeting on Wednesday, Clark released more details today about his plan to have the DDA issue a challenge grant.
Area skateboarding enthusiasts have been working for years on raising money to develop a skate park on a 30,000-square-foot section of Veterans Memorial Park.
According to Clark's resolution to be voted on by the DDA's governing board next Wednesday, the $50,000 grant from the DDA must be spent within a quarter-mile radius of downtown.
That means the money couldn't be spent at Veterans Park, but it could help fund complementary skating facilities near the downtown — for example, at West Park — and leverage other matching funds for a skate park at Veterans Park, Clark explained.
Clark, who has expressed a preference to see skateboarding facilities at West Park, said that's not an effort to shift the skate park committee's focus to downtown. He said it's more an effort to keep the grant award in line with the DDA's mission of supporting downtown, while still supporting the skate park.
"I think it's clear in the resolution that we would like some facilities in the downtown or in radial proximity to the downtown," Clark said. "This should not be viewed as contrary to the work they've done or the support that they've gotten. This should be viewed as complementary."
The Friends of Ann Arbor Skatepark, led by Trevor Staples, has been working for years on its vision to build a free, public, concrete skate park at Veterans Park, located on the city's west side.
Staples said the plan has not changed to build at Veterans Park, though he has talked with City Council Member Sandi Smith, D-1st Ward, about developing another place for skateboarders in the downtown area. He said a location hasn't been decided.
Staples said the fundraising goal for the skate park project is $1 million — $900,000 to design and build the skate park and another $100,000 to establish an endowment for park maintenance and improvements. He said he appreciated Clark's attempts to help raise money.
"We're stoked that Newcombe is enthusiastic about the skate park and that's great," he said. "If it fits within the goals of the DDA, which is downtown development, then that would be great."
Washtenaw County's Parks and Recreation Commission has pledged up to $400,000 in matching funds to the skate park initiative. So far, the skate park committee has raised $80,000, which puts the total at $160,000 with matching money from the county.
Staples said bigger donations are being sought now.
Clark is hoping a $50,000 matching grant from the DDA — with another $50,000 in public or private support — will help the skate park committee unlock another $100,000 from the county.
Clark notes that most members of City Council have provided written statements in support of the future skate park, stating that it would serve community members and may minimize problems with improper use of public ways and other facilities. He said providing skaters with a safe, attractive place to practice their sport may lessen the amount of damage to downtown planters, railings and other public and private facilities.
Clark is proposing that the $50,000 be reallocated from money the DDA pledged three years ago for the Howell-to-Ann Arbor commuter rail project. The DDA agreed to give $250,000 a year for three years, and the final year of funding remains unspent.
"I'm not asking for a lot of money," Clark said, adding that he thinks the $50,000 will be a much-needed boost for the skate park. "Having a dedicated place for people to skate makes the downtown safer, cleaner and it's less hard on the infrastructure. We have the money to give."
Ryan J. Stanton covers government and politics for AnnArbor.com. Reach him at ryanstanton@annarbor.com or 734-623-2529.