Posted on
Tue, Jun 25, 2013 : 5:58 a.m.
Firefighter's death in airplane crash shocks family and colleagues
By John Counts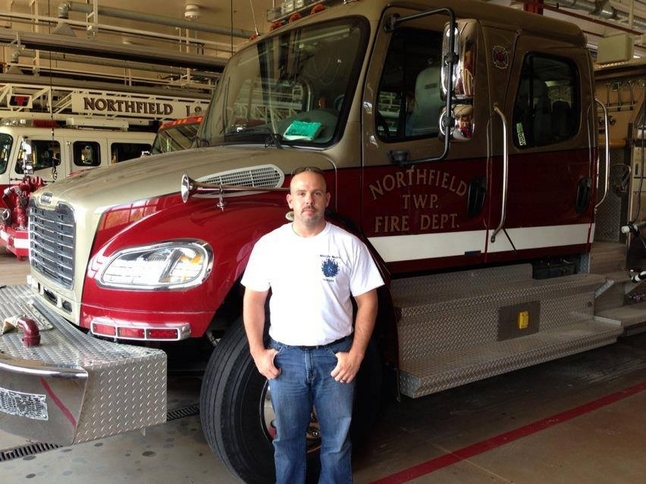 Courtesy of Northfield Township Fire Department
The 34-year-old Northfield Township man who died Friday in an Oakland County airplane crash along with three others is being remembered as a devoted firefighter and father by colleagues and family.
Jamie Jose was a husband, a father of three, a Northfield Township firefighter and a crew member of ships that traveled the world looking for oil, his father-in-law, Robert Joslin, told AnnArbor.com Monday.
Jose had recently returned from one of his world-traversing, oil-seeking expeditions that took him to the coast of Trinidad, Joslin said.
He'd typically be gone for about five weeks, then come home to Northfield Township, where he'd been living near the fire station for the past five months, and be an on-call firefighter for five weeks before heading back out to sea again.
"He was a good guy. He always wanted to help people," Joslin said.
Jose grew up in Dearborn and Taylor, where he attended high school, and was living in Southfield when he met Joslin's daughter, Jessica, who also is a paramedic, Joslin said.
Jose and Jessica were married in November 2009
Jose is survived by Abigail, a 12-year-old daughter from a previous relationship; his wife Jessica; and their two children: 6-year-old Braden and 4-year-old Gabrielle.
The family is "doing as well as can be expected" right now, "Joslin said.
Jose worked for the Franklin-Bingham Fire Department for more than a decade before coming to Northfield Township.
The whole family was living with Joslin near South Lyon until moving about five months ago to be closer to the Northfield Township Fire Department in Whitmore Lake, Joslin said. Colleagues were surprised and saddened to hear about Jose's death.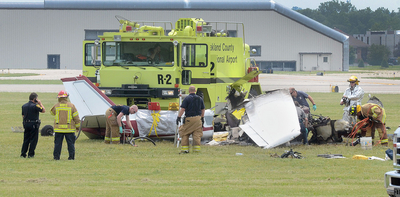 AP Photo
"When he would speak, people would listen,"
Fire Chief William Wagner
said. "He was a quiet leader."
Jose had been with the department for about a year and a half.
"He was a really well-liked guy," Wagner added. "We're dealing with it. It was difficult for sure."
Jose was a passenger in a 4-seat Cessna 172 that crashed seconds after takeoff at Oakland County International Airport in Waterford Friday.
The pilot, 19-year-old Troy Brothers, was Jose's cousin, not brother-in-law as initially reported in the media, Joslin said. Their mothers were sisters, he added.
Brothers, who had recently been accepted into the Naval Academy, called Jose Friday and asked him if he wanted to go flying, according to Joslin. Brothers had his pilot license for about a month.
"At the last minute, he called Jamie and asked him if he wanted to go up," Joslin said. "If he would have called the day before, (Jose) would have said no, (that) he was with the kids."
Jose, Brothers, his 53-year-old mother, Sandra Haley of Fraser and his 58-year-old stepfather, James Haley, all perished in the crash. MLive.com reported Brothers told a command center the plane was "a little overweight" before the accident.
The plane got up just 100 feet before Brothers radioed air traffic control for permission to land. The plane crashed in a field before making it to the runway and burst into flames, according to the MLive.com report.
"It's shocked everyone," Joslin said.
The National Transportation Safety Board told The Associated Press Monday that it has completed the on-scene phase of its probe. Investigators were set to review a video of the crash.
By Sunday the NTSB had completed documenting and taking photos of the wrecked Cessna 172 and also spoke with the manufacturer of the single-engine Cessna and the maker of the plane's engine, according to the Associated Press report.
There will be a visitation for Jose at the Vermeulen Funeral Home, located at 46401 W. Ann Arbor Road, Plymouth Township, from 2 to 9 p.m. Friday. A memorial service will take place from noon to 1 p.m. Saturday at Dexter's St. Joseph Catholic Church, located at 6805 Mast Road at the corner of North Territorial Road. A Mass of Christian burial will take place at 1 p.m.
A memorial scholarship fund also has been set up for Jose's children at the PNC Bank in Whitmore Lake. Call (734) 449-4477 for information about how to donate.
John Counts covers cops and courts for AnnArbor.com. He can be reached at johncounts@annarbor.com or you can follow him on Twitter.