Posted on
Tue, Sep 20, 2011 : 2:59 p.m.
Debate over public art continues as Ann Arbor City Council postpones decision on funding
By Ryan J. Stanton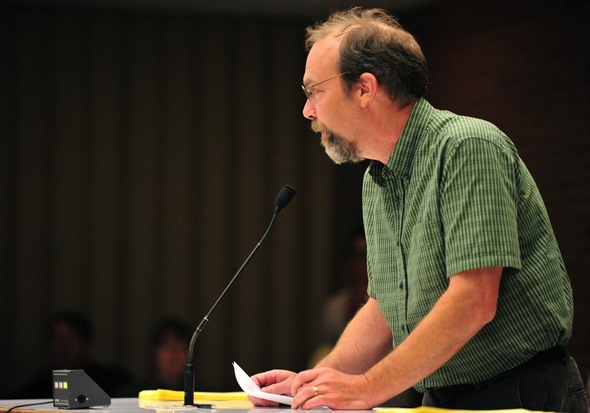 Ryan J. Stanton | AnnArbor.com
Ann Arbor City Council
members heard an outpouring of support for the city's Percent For Art Program Monday night — a protest to a
proposal to cut back its funding
.
Six different speakers lined up to voice their support for the public art program that was first approved by the City Council four years ago and since has faced repeated attacks.
"It's true that we could live in any number of dull cities that would just take care of our basic needs, and they'd probably be cheaper to live in, too, But instead, we've chosen to live in a city that has a pulse and a soul," said Mark Tucker, who teaches art at the University of Michigan and is one of the organizers behind the annual FestiFools and FoolMoon events.
"This council has an obligation to invest wisely in the future infrastructure of Ann Arbor, and public art is a part of this infrastructure," Tucker said.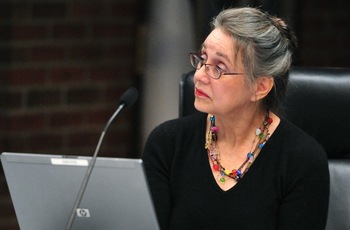 Ryan J. Stanton | AnnArbor.com
Council Member
Sabra Briere
, D-1st Ward, brought forward a series of
changes to the city's public art ordinance
Monday night aimed at curbing funding for the program.
Under the ordinance approved by the City Council in 2007, 1 percent of the budget for all city capital projects — up to $250,000 per project — is set aside for public art.
In terms of this year's budget, $334,660 of $314 million — or 0.1 percent of all expenditures — is going to public art.
But some council members have expressed concerns that more than $500,000 in street millage funds have been channeled to public art over the last four years.
The changes Briere proposed would have specified that the city's street millage — which is up for renewal in November, along with an increase to pay for sidewalk repairs — would be exempt from contributing to public art. Additionally, so would the city's general fund, even though no money from the general fund has gone to public art in the last four years.
After some debate, during which different council members argued both for and against funding for public art, the issue was postponed to the council's second meeting in November. Council members said they wanted the benefit of more information and that they were looking forward to a special work session on public art sometime in October or November.
Briere said she didn't consider her proposed ordinance changes an attack on public art, but rather an effort to clarify where money comes from and where it goes.
She said she was surprised to find out that "taking tar and filling cracks on streets" counts as a capital improvement project and that 1 percent of that goes to art. Similarly, she said, she was surprised to learn that replacing a broken sidewalk slab counts, too.
"It was also a surprise to me to study this ordinance, something that I'll cheerfully admit I did not do in 2007 when I voted for it," Briere said, adding it seemed like a good idea at the time. "I was not aware of all of the items that count as capital improvements. To me, many of them in retrospect don't seem like what I thought I was supporting."
As a taxpayer, Briere said she still supports the idea of public art, but she's dismayed that money set aside in the public art fund has been allowed to accumulate for such a long period of time. The ordinance changes she proposed included a new stipulation that any money that hasn't been allocated for an art project for three fiscal years must be returned to the source funds, which mostly include the city's parks and street millages and utility funds.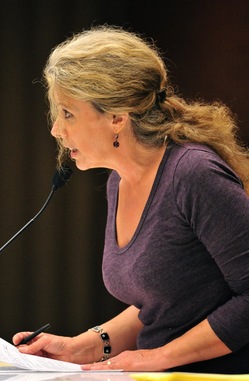 Ryan J. Stanton | AnnArbor.com
Connie Brown
, a local business owner and member of the city's Public Art Commission, offered council members a list of several public art projects that the commission is working on. That includes art installations being planned for the lobby of the Justice Center building, at the proposed Fuller Road Station site and as part of the Stadium bridges project.
Brown also referenced new sculptures in West Park, a mural project planned for Allmendinger Park, and talks of public art along the Huron River between Argo and Gallup.
"In times of economic stress, you should never give up on your future," Brown said. "As numerous studies have shown, art is an important driver in healthy economies. When art can engage a person and cause them to think differently, it drives creativity and innovation."
Margaret Parker, another member of the city's Public Art Commission, said Ann Arbor is lucky to have set up what she called a "small savings account" that sets aside one penny for every dollar spent on city capital improvement projects for public art.
"From that frugal plan and the hard work of an all-volunteer working commission, and one half-time consultant, public art projects are now being realized," Parker said.
According to records obtained by AnnArbor.com, more than $2.2 million has gone to that account over the last four years — a large percentage of which is going to art in and around city hall, including a $750,000 sculpture being installed soon.
Council Member Tony Derezinski, who recently was appointed to the Public Art Commission, said before any action is taken to cut back funding, council members should take a comprehensive look at the program, and that's what he's doing right now.
Derezinski called it a "fairly recent program" that's still getting off the ground. In the short time he's been on the commission, he said he's been impressed with the work he's seen.
"We've talked about the importance of arts in tough times and how the soul of the city is reflected in its values," Derezinski said. "No matter how you try to cut back on the funding, it still is a cutback on the funding at a time when the programs are just getting going."
John Kotarski, a retired public school teacher, told council members that public art creates a sense of place and identity. He said art makes good business sense, too.
Kotarski said Forbes magazine agrees with him that "art is strangely economically viable despite its often high price tag." He cited New York's waterfalls — an art installation under the Brooklyn Bridge — that cost $15.5 million and reportedly brought in $69 million to the city.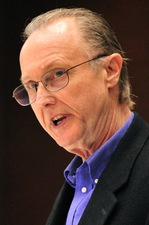 Robert Oneal
, a retired physician, told council members that paintings and sculptures appearing in public places have long been a source of civic pride.
"Why should a city like Ann Arbor, known for its support of all intellectual and artistic pursuits, not be a leader in public art?" he asked.
Tucker said the decision to create the Percent For Art Program in 2007 was made by forward-thinking individuals who understood it would be an investment in the city's future.
"Twenty-six states and over 90 municipalities across the country have already enacted percent for public art programs in their community," he said. "They now have public art on display, which serves as a reminder that here lives a healthy, happy, productive and creative community."
Tucker said Ann Arbor's public art spending shouldn't be considered frivolous, but rather a long-term city investment not unlike building bridges or laying new sewer lines.
"Do we live in a city that clearly embraces the arts?" he asked. "The Summer Festival has been around for over 25 years. The Ark, over 40. The Art Fairs recently turned 50. The Ann Arbor Film Festival is turning 50 this year. The Ann Arbor Symphony, 81 years. The Ann Arbor Art Center, over 100 years. And UMS is currently celebrating its 133rd season."
Derezinski left fellow council members with a thought to ponder — a spin on a quote from the poet John Keats.
"A thing of beauty should be a joy forever," Derezinski said. "Its loveliness should be allowed to increase. It should never be allowed to fade into nothingness."
Ryan J. Stanton covers government and politics for AnnArbor.com. Reach him at ryanstanton@annarbor.com or 734-623-2529. You also can follow him on Twitter or subscribe to AnnArbor.com's e-mail newsletters.