Posted on
Sat, Oct 22, 2011 : 4:03 p.m.
Debbie Williams-Hoak: Legendary athlete dazzles off the field, too
By Kyle Poplin
Debbie Williams-Hoak is arguably the best all-around female athlete in the city.
Her credentials? She was a professional golfer on the LPGA Tour and a hall of fame track and field performer at the University of Michigan.
In high school, she was an All-American in basketball, a stand-out in tennis and had the highest bowling average in Ohio in her age group.
Oh, and she's a local legend on the diamond playing her favorite sport: softball.
But her proudest accomplishment has nothing to do with sports: It's making sure underprivileged kids have something under the tree on Christmas morning.
She started the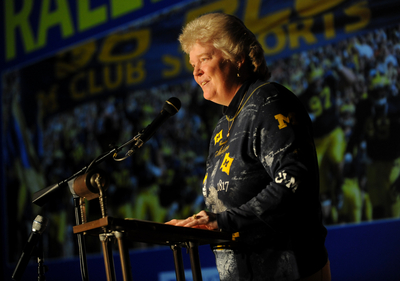 Melanie Maxwell I AnnArbor.com
program 16 years ago, and today her group of volunteers helps more than 100 families each holiday season.
Those who know Debbie aren't surprised at the program's success. She's proven many times that she can accomplish her dreams.
Growing up in Euclid, Ohio, Debbie wanted to be a Buckeye. But when it came time for college, the coaches at Ohio State University wanted her to choose between basketball and track and field, where she was the three-time state discus champion.
She couldn't choose, so she looked elsewhere. She wanted to go to the University of Southern California, because her two brothers and two sisters all lived out West.
In the meantime, however, she was being recruited by U-M's legendary track coach Red Simmons. When Simmons learned that Bo Schembechler was going to speak at an athletic banquet at Debbie's high school, Simmons asked Bo to give Debbie a recruiting pitch. He did, and Debbie bought it. She committed to the Wolverines the next day, thus becoming, in Michigan lore, "the only female athlete ever recruited by Bo Schembechler."
She played basketball at U-M for only two months. She quit because she, and a lot of other players, couldn't get along with the coach. "One of the big regrets in my life was that I didn't get to play college basketball," she says.
She played nearly everything else. She won four Big Ten titles throwing the javelin, qualifying for three Olympic Trials along the way. She missed qualifying for the 1984 U.S. Olympic team by 5 feet. She was a track and field All American, finished second in the NCAA finals, and was voted into the U-M Women's Track Hall of Fame.
She went to six U.S. Olympic Festivals; five for track and one for softball, where she specialized in showing off her arm by throwing out runners at first base from her position in the outfield. (She once threw a softball 288 feet.)
One of Debbie's goals was to become a pro athlete. When she graduated college in 1982, there were few professional opportunities for women in track, basketball and softball, but she refused to let the dream die.
She'd never played golf, but figured she'd be good at it and saw it as a way to reach her goal. As she puts it, "I had never failed at anything athletically in my life, and I wasn't going to start."
So, at age 30, when most athletic careers are winding down, Debbie set about learning the game of golf. She eventually moved in with a family she barely knew in Boynton Beach, Fla., sleeping on the couch at night and hitting golf balls all day.
In 1991, a year after taking up golf, she won the Michigan Publinx championship. In '93 she was Michigan amateur champion, and repeated in '94, when she was the Golf Association of Michigan female player of the year.
She turned pro in 1995 at age 35, playing on the Futures Tour, but she kept her eye on the big prize: the LPGA. Finally, in 1999, she made the cut and played the LPGA Tour in 2000 as a 40-year-old rookie.
She lasted only one year on the LPGA, as real life got in the way. The year she joined the tour she got married, her father had a heart attack, her brother was diagnosed with a brain tumor, and doctors found a lump on her thyroid. But she'll never forget playing with Annika Sorenstam at the Jamie Farr Classic in her native Ohio, matching Sorenstam shot for shot for two days.
In pursuing her own dream, Debbie never forgot about the dreams of others.
Growing up, Debbie experienced some "tough Christmases. … More than one Christmas, when I got up there wouldn't be a tree or any presents. I wondered, what did I do wrong? Am I a bad child?"
She didn't want other kids to have the same worries. In 1996, when she learned that the Ann Arbor Police Department "adopted" one family every Christmas, she set about expanding the program.
These days she helps hundreds, with the help of the Ann Arbor, Saline and Chelsea police departments, the Washtenaw County Sherriff's Office, the University of Michigan Athletic Department, WTKA, Key Bank and lots of other local individuals and businesses. They get "wish lists" from various organizations and do their best to fulfill those wishes. It's grown to the point that, last year, Debbie began the process of starting the Magic of Christmas Adopt a Family Foundation.
When the program began, Debbie said, the wish lists were all about toys. These days, kids are asking for things like socks and winter boots and underwear. Even in homes where both parents are working, Debbie said, there's sometimes not enough money for anything beyond the necessities.
To offer help, financial or otherwise, contact Debbie at irish2go@att.net.
In her regular life, Debbie is the head boys' golf coach at Saline High, the assistant girls' golf coach, the head teaching pro at Lake Forest Golf Club, works in golf fitness and also serves on the executive board of the Letterwinners M Club.
Meanwhile, Debbie has another personal dream yet unfulfilled. She wants to become a great piano player. Based on what she's accomplished in the past, those who know her are already thinking, "Watch out, Carnegie Hall."
Kyle Poplin is publisher of The Ann magazine, which is inserted monthly in various print editions of AnnArbor.com. The next issue comes out Oct. 23. He's also searching, through this column, for the most interesting person in Ann Arbor. If you have anyone in mind, email your idea to theannmag@gmail.com.