Posted on
Thu, Oct 11, 2012 : 5:58 a.m.
Car-deer accident numbers down in Washtenaw County as carcass debate continues
By John Counts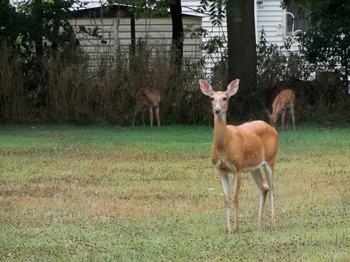 AnnArbor.com file photo
As the fall rut begins, drivers will be dodging more deer on area roadways.
If a downward trend continues, however, there could be fewer collisions between automobiles and whitetail deer in 2012.
Numbers again fell in the state and Washtenaw County in 2011, according to a recently released report from the Southeast Michigan Council of Governments. Statewide, there were 53,592 car-deer crashes, down from 55,867 the previous year. In the county, there were 1,026 car-deer accidents, or 10.6 percent out of the 9,715 total accidents. This number is down from the 1,174 incidents reported in 2010. In southeastern Michigan, there were 5,443 car deer crashes in 2011, down from 6,062 crashes the previous year.
A disease threatening the Michigan deer population could also potentially affect the number of car-deer crashes this year. The Department of Natural Resources reports the epizootic hemorrhagic disease has killed a minimum of 8,671 deer in 33 Michigan counties as of this week, including confirmed and probable cases, according to MLive.com.
Despite prospects of lower deer numbers in southern Michigan, the chance of an accident increases during fall mating season, according to the Michigan Deer Crash Coalition. This means higher risk of injury or even death.
On Sunday, longtime Ann Arbor dentist and Whitemore Lake resident Peter Drescher, 57, became the latest fatality when he was killed in one-car accident in St. Clair County while swerving to avoid a deer.
However, driver fatalities in southeastern Michigan were down from eight in 2010 to two in 2011 — one in Livingston County, the other in Monroe. One of the two killed was driving a motorcycle, according to SEMCOG.
The report also puts Scio Township back in the top spot for car-deer accidents, making up 28 percent of total accidents reported there, despite a slight drop to 145 car-deer accidents reported in 2011 compared with 153 in 2010. It's still considerably higher than the 119 incidents in 2009, however.
The township's landscape - farmland abutting heavily travelled roads and highways - seems to be why Scio experiences so many car-deer accidents, according to officials.
"There's a mixture of a lot of vehicles and rural areas," said Scio Township firefighter Brian Koch.
Koch said the roads that see many of the car-deer accidents in the township include Liberty, Scio Church and Huron River Drive, though injuries aren't too frequent.
"We do see some where they swerve and go off the road," he said.
This is why officials caution against trying to avoid a deer in the road by jerking the vehicle around it.
"Don't swerve," said Sgt. Geoff Fox of the Washtenaw County Sheriff's Office. "Maintain control of the car. Stay the course."
If a crash with a deer is unavoidable, the MDCC tells drivers not to swerve, brake firmly, hold on to the steering wheel with both hands, come to a controlled stop and steer the vehicle well off the roadway.
A motorist is more likely to be injured from going off the road and hitting a tree or rolling the vehicle, Fox said.
Car-deer crashes ends up with a harsh inevitability: a dead deer in the road. Deer carcasses along roads and highways are a common sight throughout Michigan and Washtenaw County in part because there is no agency funded to dispose of them.
Fox said deputies are under orders to only move a dead deer from a roadway if it poses a traffic danger. In those instances, it will be set alongside the road. The only time a deer could be disposed of is if it's killed in a heavily populated area like Ypsilanti Township and poses a public safety problem, Fox said.
The Washtenaw County Road Commission is under a similar directive, said director of operations Jim Harmon.
"Our workers drag the animal to the side of the road and leave it there," he said. "We're left with no other option."
Historically, deer carcasses would be taken to gravel pits and buried by the road commission, according to Harmon, but the DNR took exception to that practice.
Dragging dead deer to the side of the road and letting nature take its course has been standard operating procedure for more than a decade in Washtenaw County and throughout the state, if not longer, Harmon guessed.
The issue is listed on the legislative priorities of the County Road Association of Michigan, an organization comprised of all the state's road commissions.
"Increasingly there is the demand that dead animals be removed completely from the right-of-way and disposed of in landfills or other designated areas," the association states in the priority. "This is creating a substantial financial burden on local road agencies in terms of landfill and labor costs."
The association believes there should be a statewide policy developed to address the removal of dead animals and that it should be the DNR's responsibility.
"A simple ecological way should be provided to dispose of carcasses," the association further states in the priority. "The state should provide a disposal system in each county."
The DNR, however, does not believe it is responsible for removing roadkill like deer from the side of the road, said deputy public information officer Debbie Munson-Badini.
"It comes down to who is maintaining the roadway," she said.
Therefore, if it's a county road, that means it's the road commission's responsibility. If it's a state-maintained road, the Michigan Department of Transportation or the state police would pull the carcass at least to the side of the road. Munson-Badini said it's been this way since an attorney general's decision in the 1980s.
While potentially unsightly to some people, the carcasses can be a boon to creatures.
"It is a really good source of food for scavengers," Munson-Badini said.
Motorists who hit the deer can also make use of the meat. After hitting a deer, people can legally strap the carcass on their vehicle and take it home, but only after contacting police.
"You can take that roadkill and get some venison for your freezer," Munson-Badini said.
John Counts covers cops and courts for AnnArbor.com. He can be reached at johncounts@annarbor.com or you can follow him on Twitter.