Posted on
Tue, Sep 25, 2012 : 12:38 p.m.
Deer-killing EHD virus found in Washtenaw County
By Cindy Heflin
A virus that's killing thousands of white-tailed deer in Michigan has made its way to Washtenaw County, the Detroit Free Press reported.
Lyndon Township resident Lynn Mida found two dead deer he believes were felled by epizootic hemorrhagic disease on his property and suspects a third also succumbed to the virus, the newspaper reported.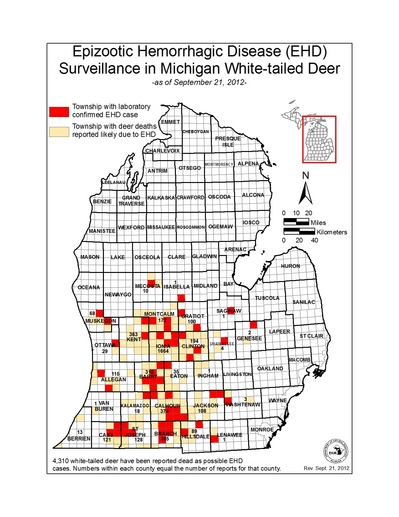 Michigan DNR
Across the state, 4,217 deer deaths had been linked to EHD as of last week, according to the Free Press. Thousands more are thought to be dead but not yet discovered.
The virus causes deer to bleed internally, stop eating and die quickly. The virus, spread by the bite of tiny flies, could affect the number of deer available for hunters in localized areas, though is unlikely to have much of an impact in the state as a whole, which has about 1.7 million deer, the newspaper reported.
The disease is not known to affect humans and is not spread from deer to deer, according to information from the Michigan Department of Natural Resources. People do not catch the disease by eating the meat of infected deer.
Frost kills the flies that spread the disease, stopping the spread of the disease in the fall.
EHD has been present in the United States for more than 50 years, the DNR says and has had no long-term impact on the state's deer herd.