Posted on
Thu, Dec 20, 2012 : 2:59 p.m.
Delinquent taxes? Washtenaw County buildings close for 2012 after Friday
By Amy Biolchini
Most Washtenaw County buildings, including the register of deeds, clerk and treasurer's offices, will be closed for the remainder of 2012 after Friday because of the Christmas and New Year's holidays, as well as unpaid furlough days.
This is the first time county buildings will be closed for the final week of the year.
That means the last day to pay delinquent taxes in 2012 in the county treasurer's office or by credit card over the phone is Friday during business hours from 8:30 a.m. to noon, and from 1 to 5 p.m.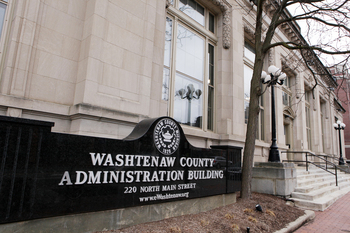 Chris Asadian | AnnArbor.com
As a result of the extended closure, County Treasurer
Catherine McClary
said tax payments will be accepted through a variety of other means.
"I apologize to the public," McClary said. "But the building is closed and locked up."
Tax payments submitted to the drop box located on the Main Street side of the county's building at 200 N. Main St. in Ann Arbor will be considered paid by Dec. 31, McClary said.
People can also pay their taxes by submitting their credit card information to the treasurer's office through a secure fax line at (734) 222-6632. McClary said any payments submitted by fax will be considered paid by Dec. 31 and need to include the following information in the fax:
Individual's name and daytime phone number
Credit card number, expiration date and three-digit security code
Amount the individual would like to pay
Payments will also be accepted by emailing taxes@ewashtenaw.org, but McClary said she didn't recommend the practice and cautioned about the insecure nature of communicating credit card information via email.
Questions regarding how to submit delinquent tax payments can also be submitted by email to taxes@ewashtenaw.org.
To find out how much is owed in delinquent taxes, go to www.ewashtenaw.org and click on the "Property/Parcel Lookup" link located on the right side of the web page under the "Most Requested" section.
Enter the appropriate information to find the assessment information for your property and scroll to the bottom of the page for the link to "Delinquent taxes."
Tom Richardson, CEO of Liberty Title Agency in Ann Arbor, said the nine-day closure of Washtenaw County's Register of Deeds office will mean a large backlog of documents that will be coming in to the office Jan. 2 when it re-opens.
"Commerce will not stop," Richardson said. "Hopefully it won't result in mass confusion."
Keeping the claims in the order in which they were executed could be difficult with the backlog, Richardson said.
Certified copies of birth certificates, death records or marriage licenses can be obtained Dec. 26-28 by calling the Michigan Department of Community Health at (517) 335-8666.
Marriage applications and licenses can be obtained Dec. 26-28 by calling Washtenaw County's help desk at (734) 222-3737. Leave a message with the answering service with your name and phone number, and staff will return calls from noon to 4 p.m. Dec. 26-28 to make an appointment.
The treasurer's office, as well as most other county buildings, will reopen at 8:30 a.m. Jan. 2.
Amy Biolchini covers Washtenaw County, health and environmental issues for AnnArbor.com. Reach her at (734) 623-2552, amybiolchini@annarbor.com or on Twitter.