Posted on
Mon, Dec 3, 2012 : 7:55 a.m.
Dense fog advisory for Ann Arbor; warm day on tap before cold moves in
By Cindy Heflin
Dense fog could plague drivers in the Ann Arbor area until the early afternoon hours Monday, the National Weather Service warns.
The weather service has issued a dense fog advisory in effect until 2 p.m. Monday. Fog will reduce visibilities to less than a quarter mile in some areas, the weather service warned. Visibility is expected to improve to more than half a mile during the afternoon.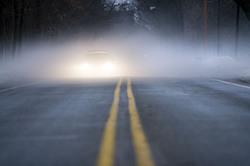 In Washtenaw County, fog is expected to be especially dense in the Chelsea area, the weather service said.
The fog comes in the midst of a period of unseasonably warm weather in the Ann Arbor area. But a change is in store starting Tuesday.
The high today will be about 61 degrees, but along with the fog, the warm weather will come with periods of drizzle, forecasters say.
Scattered showers and thunderstorms are likely Monday night, with a low around 55 degrees.
Showers are likely Tuesday, mainly before 11 a.m. Then skies will begin to clear, but the temperature will drop to about 50 by 5 p.m., the National Weather Service said. Temperatures will keep falling overnight with a low of about 31 expected.
Wednesday it will be mostly sunny, but the high is only expected to reach 37.
For weather forecasts and conditions any time, check AnnArbor.com's weather page.