Posted on
Mon, Feb 25, 2013 : 5:57 a.m.
U-M conference tackles stigma of depression among college students
By Amy Biolchini
The University of Michigan will host about 450 researchers, professors, school counselors and students from across the country for a two-day annual seminar this week in a proactive approach to addressing depression among students.
It's a conference that U-M first organized after a tragic event about 11 years ago to find ways to remove the stigma from getting treatment for depression.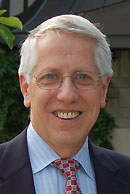 Courtesy UM
On the eve of the 2013 conference,
Dr. John Greden
, executive director of the
U-M Depression Center
, said attitudes among college students are starting to change and the stigma surrounding seeking treatment is lessening.
"Have things changed? It's subjective, but it's confirmed in the way students are managing things," Greden said.
One of every six people encounter clinical depression or bipolar disorder in their lifetime, Greden said, noting they're among the most disabling disorders in the world.
"Suicide is the second-highest cause of death among college students," Greden said. "When you look at any university, any one of them has these problems. Michigan tried to take it on: How can we find these things earlier? How can we treat them more effectively?"
U-M initiated the conference after a student committed suicide and university leaders discovered that students didn't know where to seek help or programs that were available at U-M, Greden said.
The conference was initially focused on improving awareness, and U-M organizers invited other researchers and professors from across the country, Greden said.
"It was so well received that people kept asking us to have it," Greden said. "It's still necessary and we still don't have all the answers."
The focus of the conference this year will be discussing ways to help students develop their own coping mechanisms during recovery from depression.
Other workshop topics include high-risk drinking and depression, how college students talk about depression on Facebook and a game plan for addressing student-athlete mental health and substance-abuse issues.
Topics are chosen by a conference planning committee that consists of a variety of departments from across the university.
Dr. Bob Winfield, chief health officer for U-M and director of the University Health Service, asked that the conference help students identify symptoms of depression and anxiety when they may use drinking as a coping mechanism, said Trish Meyer, the Depression Center's program director for outreach and education.
Meyer has been a key organizer of the conference for the past eight years.
"We're focusing on college students. This is a time of life when depression and bipolar illness begins — lack of sleep, new place, alcohol or drug use. It creates the perfect storm for people who may be susceptible for developing these kinds of illnesses," Meyer said. "They're also in places where there are the most resources."
About 100 of the 450 registrants for the conference are students, Meyer said. Students are admitted to the conference at no cost.
"I think we all have a responsibility of doing something really much better," Greden said.
Amy Biolchini covers Washtenaw County, health and environmental issues for AnnArbor.com. Reach her at (734) 623-2552, amybiolchini@annarbor.com or on Twitter.