Posted on
Wed, Feb 17, 2010 : 6:02 a.m.
Deputies take liquor inspections too far at Superior Township party store, attorney claims
By Lee Higgins
Washtenaw County sheriff's deputies have recently conducted "warrantless searches and seizures" at The Party Store in Superior Township while claiming they were part of liquor inspections, the store's attorney alleges.
Attorney Jeffrey Lance Abood mailed a letter Tuesday to Sheriff Jerry Clayton and other officials to inform them of what he calls "blatant misconduct" by deputies.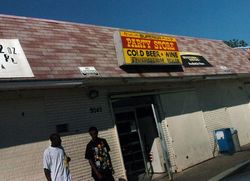 According to the letter, the store's owner, Ziad Abuziad, has been subject to "breathalyzers and body searches," during which nothing illegal was found.
Deputies conducted the searches in front of customers without warrants and without consent, the letter claims, causing Abuziad to be humiliated. The inspections at the MacArthur Boulevard store began Jan. 24, a day after a man was fatally shot across the street at Sycamore Meadow Apartments.
"Not only were these searches beyond the scope of a liquor inspection, they had absolutely nothing to do with the standard liquor inspections or investigations," the letter says. 
The letter claims deputies are determined to shut down the business for the "sole reason that it is close to a high-crime neighborhood."
Sheriff Jerry Clayton said this afternoon he will look into the allegations when he receives the letter.
"Our commitment is to improve the quality of life in the community," he said. "We are more than willing to partner with the owner of the Party Store."
Abood mailed copies of the letter to the governor's office, state attorney general's office, state Liquor Control Commission and state police headquarters. He attached detailed notes his client has kept regarding the inspections.
The letter says Abuziad is "willing to take a lie detector test in order to prove" the allegations.
It's not the first time police have zeroed in on The Party Store.
Deputies targeted the store during a crackdown on crime in the neighborhood over the summer. Following a drug investigation, deputies obtained an emergency order to suspend the store's liquor license in August.
That suspension was lifted in November after the store agreed to stop selling liquor at 10 p.m. each night and hire a private security guard to work from 5 p.m. to close.
Attorney Abood said Abuziad told him things had recently been going smoothly.
Kathran Rice, owner of Little Village Learning Center, a daycare center near the store, said Abuziad has cleaned up the place.
"There's no more hanging out in front," she said. "There's no partying going on. It's a lot better than it was."
According to the notes attached to the letter, Abuziad claims things changed on Jan. 24, when deputies conducted the first of four liquor inspections.
During the inspections, Abuziad alleges deputies opened cans of baby formula, frisked employees and searched a jacket hanging in his office.
In one case, Abuziad claims a deputy went inside a bathroom to search it, but Abuziad was not allowed to follow him. When the deputy emerged, he had a small bag with a marijuana seed in it, Abuziad alleges.
In another case, Abuziad claims a deputy gave him a breathalyzer test, telling him the Michigan Liquor Control Commission asks them to give the tests.
Rick Perkins, the MLCC's director of enforcement, said he was not aware of the commission asking deputies to give breathalyzer tests to licensees.
When MLCC investigators conduct inspections, he said they attempt to remain as "low-key" as possible so they don't interrupt business.
They typically wouldn't open products in a store during an inspection, he said. In addition, he said they "would not have any objections" to a licensee following them around as they conducted the inspection.
Asked about any recent violations at the store, Perkins said the MLCC received a report from the sheriff's department that marijuana was found there. He said deputies are authorized to conduct inspections on their own.
"We're not gonna dictate to the Washtenaw County Sheriff's Department how to conduct their inspections," he said.
Lee Higgins covers crime and courts for AnnArbor.com. He can be reached by phone at (734) 623-2527 and email at leehiggins@annarbor.com.