Posted on
Mon, Jul 1, 2013 : 6:46 p.m.
Deputies find body of 21-year-old man who drowned after jumping into Huron River
By Kyle Feldscher
The body of 21-year-old drowning victim Donovan Gerard Hyter was found downstream from the railroad trestle where he jumped into the Huron River with five friends early Sunday morning.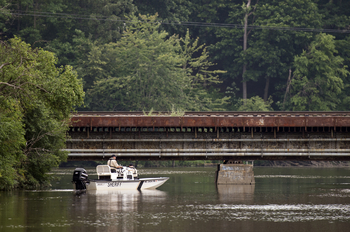 Melanie Maxwell | AnnArbor.com
Washtenaw County Sheriff's Office spokesman Derrick Jackson said Hyter's body was found about 5:15 p.m. Monday. Hyter and his friends jumped into the Huron River from the railroad trestle east of Superior Road about 4:52 a.m. Sunday.
Investigation into the incident, including interviews with the friends who jumped into the river with Hyter, will continue now that his body has been found.
"We were really just focused on finding the body first," Jackson said.
Jackson said a group of six people left the Riverrain Apartments along the railroad tracks and walked toward the trestle. Five of the six members jumped into the river together Sunday morning and discovered Hyter was missing when the other four exited. One of the men in the group is a former lifeguard and attempted to assist Hyter but was unable to locate him.
"It's really dark and the water's moving pretty fast and they were unable to locate him," Jackson said.
The group called 911 and the Washtenaw County Sheriff's Office dive team began a search-and-rescue operation about 20 minutes after the group jumped into the water.
The water in the area is only between six and eight feet deep, Jackson said. However, the recent rainfall increased the river's current, increasing the danger, Jackson said.
Heavy summer rains often swell the river and makes it more dangerous for people who are regular users.
"Every year when we get these heavy rains, we get near drownings, or people on kayaks get turned over and get trapped or we have actual drownings," Jackson said.
Jackson said the man's body was located in the vicinity of the trestle, a little bit downstream from the jumping point.
Hyter's family has been notified that his body has been found.
It's not clear if alcohol or other intoxicants played a role in the incident. Jackson said those questions would be asked during the course of the investigation.
Hyter was a Pittsfield Township resident and a graduate of Huron High School, where he was a semifinalist in the 2010 National Achievement Scholarship Competition, according to the school's website.
Kyle Feldscher covers cops and courts for AnnArbor.com. He can be reached at kylefeldscher@annarbor.com or you can follow him on Twitter.