Posted on
Fri, Nov 9, 2012 : 4:33 p.m.
Destructive 20-pound carp pulled from pond at West Park in Ann Arbor
By Amy Biolchini
Amy Biolchini | AnnArbor.com
Ann Arbor employees removed a 20-inch-long, 20-pound
common carp
destroying the vegetation in a small pond in Ann Arbor's
West Park
Friday morning.
Workers from the city's Natural Areas Preservation program fished out the carp that had been reportedly lurking in the pond for months and released it into the Huron River Friday.
"We know the only way it got there is someone put it there," said Lara Treemore-Spears, natural area technician for the NAP program.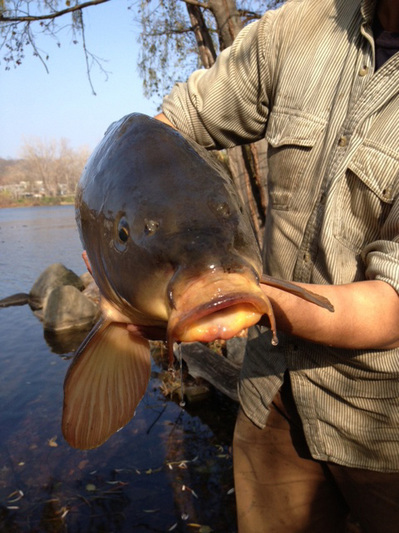 Courtesy of NAP staff
The West Park pond and wetland areas were constructed in 2010 by the city as a basin for storm water control, and are not connected to a larger water body.
"As a closed system, it has a limited carrying capacity for fish," Treemore-Spears said.
Carp are fairly common, but in a small pond like the one in West Park, they can be extremely destructive. They survive by eating the small animals and plants that live in the mud at the bottom of rivers and lakes.
The mechanism by which they feed is the most damaging: They suck up the mud from the bottom of the body of water, and then spit out the parts that they don't want.
Treemore-Spears said there are goldfish in the pond that were likely dumped there as well by people, and that aquarium gravel has been observed on the banks of the pond.
"The system is in a careful balance to get it to function with the storm water inputs," Treemore-Spears said. "If people are always bringing in fish, they're not only exceeding the capacity of the pond, they could be bringing in diseases with them."
The city's NAP program intended to let the ecology of the pond develop naturally, Treemore-Spears said, and the program has not placed any native species of fish in the pond.
Fish will likely make their way to the small body of water as wading birds like great blue herons and others deposit fish eggs that stick to their feet as they fly from one body of water to the next, Treemore-Spears said.
The city's Natural Area Preservation program department consulted the Michigan Department of Natural Resources about what to do with the carp that was removed. The DNR said the carp should be destroyed, but NAP workers decided to release it into the Huron River.
Todd Kalish, Lake Erie Basin coordinator for the DNR, said it's illegal to transfer a fish from any public body of water to another without a permit.
"I think (the staff) became somewhat attached to relocating animals after all of NAP's turtle relocation efforts on Leslie Park Golf Course this fall, and it was difficult in the moment to distinguish between that activity and this one," Treemore-Spears said in an emailed statement. "We would not have moved (the carp) to the Huron River if we had any reason to think it would cause similar problems there. "
The common carp is plentiful in the Huron River.
"Common carp can have negative impacts on native species: They can be extremely prolific because they lay a lot of eggs and many are successful, so they can out-compete other desirable species," Kalish said. "They do a lot of rooting of vegetation and sediment. When they spawn, they cause a lot of siltation in the water."
Kalish said the common carp — a species of Asian carp — are not as destructive as the also invasive silver carp and bighead carp that have infiltrated the Mississippi River and are being prevented from entering the Great Lakes by a controversial electronic barrier in Chicago.
Amy Biolchini | AnnArbor.com
Carp can live in streams, lakes and reservoirs in areas with relatively harsh conditions like low oxygen — an indicator of an unhealthy ecosystem — or large temperature fluctuations. The West Park pond is about four feet deep, and Treemore-Spears said it's possible the carp would have been able to survive the winter there.
For young carp, predators include large fish like northern pike and largemouth bass, as well as birds like great blue herons. Adult carp have no predators except for humans.
The West Park pond was built in 2010 by the city through a $1.59 million storm water management project. The initial construction apparently did not solve all of West Park's drainage issues, as nearby residents complained in 2011 that their homes were still flooding. The city approved $27,700 in August to fix part of the park near North Seventh Street.
Overall, Treemore-Spears said the efforts at West Park to create a storm water control basin have been going well and that many wetland species have been sighted already in the park.
Amy Biolchini covers Washtenaw County, health and environmental issues for AnnArbor.com. Reach her at (734) 623-2552, amybiolchini@annarbor.com or on Twitter.