Posted on
Thu, Nov 24, 2011 : 6:28 p.m.
Detroit Lions fans welcome Nickelback - after a few boos - during halftime show
By Paula Gardner
About 55,000 people signed the online petition by a University of Michigan student asking that Canadian band Nickelback not be allowed to perform at the Thanksgiving Day halftime show at Ford Field.
But few of them seemed to be at the game, since - according to a Detroit News report - the band only got a smattering of boos before winning the crowd over with a song touting unity.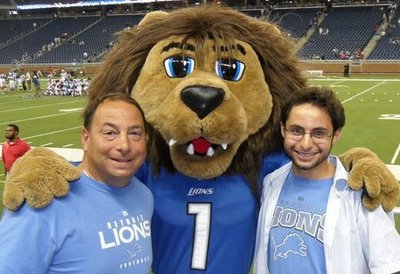 Photo courtesy of Dennis Guttman
Dennis Guttman, the U-M student who started the petition, still wasn't thrilled, according to the report, which said he asked reporter Adam Graham: "Did it sound as awful on TV as it did at Ford Field?"
Guttman gained notoriety in early November with his effort, landing on "The Daily Show with Jon Stewart" and ESPN among other media outlets. He simply isn't a fan of the band and said he didn't think they'd represent Detroit well.
"I'm shocked. I wasn't expecting to make news with it," he told AnnArbor.com for a story looking at how many people were responding to his petition. "I figured it would get a bunch of signatures, but I had no idea it would be this many this fast and have so much news coverage."
Read the full story (including a little explanation about the National Anthem mishap).