Posted on
Fri, Oct 21, 2011 : 1:16 p.m.
Developer determines Heritage Row project not viable, Ann Arbor officials say
By Ryan J. Stanton
(This story has been updated to include comment from Alex de Parry.)
The developer of Heritage Row apartments has indicated he no longer plans to pursue the 85-unit project due to its apparent inviability, Ann Arbor officials said today.
That leaves city officials assuming Jeff Helminski and his development team now will push forward with the controversial City Place apartments — a by-right project already approved for the same site that includes knocking down seven century-old homes on Fifth Avenue.
It's the latest twist in a roller-coaster saga that's lasted years and, in recent weeks, offered a glimmer of hope to residents and city officials that the homes might be saved.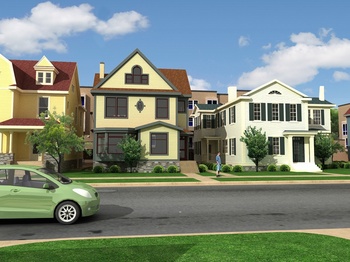 Council Member
Carsten Hohnke
, D-5th Ward, had been leading the charge to bring back the twice-rejected Heritage Row proposal for reconsideration. Until Thursday afternoon, city officials remained hopeful a solution could be found that would work for the city and developer.
The City Council was expected to vote Monday night on final approval of a revised version of Heritage Row.
The city announced via e-mail today that the Heritage Row public hearings have been cancelled for Monday, as the planned unit development zoning and site plan have been withdrawn at the request of the developer.
But Hohnke said he talked to Helminski on Thursday and learned the project, as initially put together by Ann Arbor developer Alex de Parry, never was economically viable.
"He was pretty conclusive in saying this was the end," Hohnke said of what Helminski told him about Heritage Row.
After talking to Helminski, Hohnke said it seems there's nothing else the city can do to help the developer find a path forward on Heritage Row now.
Helminski could not be reached for comment. De Parry was the original developer who recently turned the project over to Helminski.
Hohnke said Helminski told him de Parry underrepresented about 14,000 square feet of construction costs on Heritage Row — a $1.3 million hit that was too much to overcome.
"This was a mistake on the previous development team's part in not providing or having the appropriate numbers in the first case," Hohnke said.
De Parry said that's not true.
"To clarify, everyone was working from the same spreadsheets and pro formas," he wrote in an e-mail. "To say that 14,000 square feet was missed is both ridiculous and untrue."
With it now looking likely City Place will go forward, Hohnke said in seems in hindsight that the battle that's taken place over the 1.23-acre site at 407-437 S. Fifth Ave. was never about Heritage Row. Looking forward, Hohnke said, the real underlying issue is the city's R4C multiple family residential zoning, which allows projects like City Place to be built.
Hohnke and other council members, including Sabra Briere, D-1st Ward, have said they're still waiting for an advisory committee formed by council more than two years ago to study the R4C and R2A residential zoning districts to come back with recommendations. That could include potential zoning ordinance changes to prevent future projects like City Place.
"We have to recognize that we are dealing with an R4C zoning that does not reflect community values and desires for how we build in our near-downtown," Hohnke said.
Hohnke also said he still believes a historic district for the Germantown neighborhood, recommended by a council-appointed study committee, was the right systemic solution to stop City Place. In July 2010, the council voted 6-4 against granting historic district status.
The six who opposed the historic district were Stephen Rapundalo, Christopher Taylor, Tony Derezinski, Margie Teall, Marcia Higgins and Sandi Smith.
Ryan J. Stanton covers government and politics for AnnArbor.com. Reach him at ryanstanton@annarbor.com or 734-623-2529. You also can follow him on Twitter or subscribe to AnnArbor.com's e-mail newsletters.