Posted on
Tue, Jan 8, 2013 : 2:57 p.m.
Developer gets started on preparing vacant Georgetown Mall for February demolition
By Ryan J. Stanton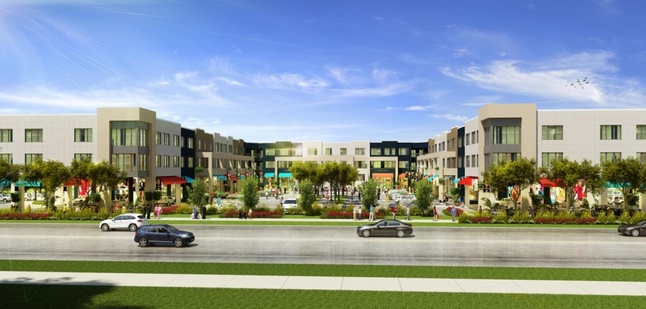 Harbor Georgetown LLC
The developer planning to demolish the vacant
Georgetown Mall
in Ann Arbor says the blighted building could come down by next month.
Bloomfield Hills-based developer Craig Schubiner of Harbor Georgetown LLC won approval from the City Council Monday night for revisions to his plans for a roughly $48 million mixed-use development called Packard Square, which includes retail space and apartments.
Schubiner said preparation work for the demolition, including asbestos and universal waste removal, already started on Monday.
"Once that's complete in about three weeks, then the building demo will start," he said. "There's two different demo contractors involved — one that's been hired by the county and one that's been hired by us, and we are getting everybody together now on a schedule. Our goal is February that it comes down. We want residents and retailers to be moving in summer of 2014."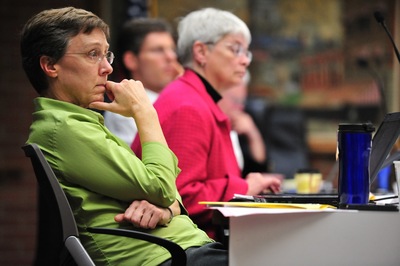 Ryan J. Stanton | AnnArbor.com file photo
Wendy Rampson
, the city's planning manager, said the city has not yet received a permit application for the demolition. As for the asbestos removal, that's regulated by the Michigan Department of Environmental Quality. A DEQ spokesperson could not be reached on Tuesday.
Schubiner wasn't able to demonstrate project financing to the satisfaction of the DEQ last year to unlock a $1 million state grant for demolition and cleanup costs. He received a six-month extension in October, giving him until April to show he had the money lined up.
The state grant is being administered by the Washtenaw County Brownfield Redevelopment Authority and will pay for removal of contaminated soils and demolition of the existing buildings.
City officials said after some lobbying at the state level, the demolition grant was unlocked recently without Schubiner having to show proof of financing for the project. They said that involved a lot of lobbying directly to the director of the DEQ, who decided it was fine.
Schubiner told AnnArbor.com on Monday the financing for the project is coming along well. "The lenders have ordered their third-party reports and we're heading toward a closing," he said.
Council Member Marcia Higgins, D-4th Ward, said her talks with the development team in recent days lead her to believe the project financing still isn't locked down.
"We really would love to see this get finished, but I'm losing faith in what I'm being told," Higgins said, adding she's not sure what to believe at this point.
"It's a complicated project that's been going on through a terrible economic time," she added. "I feel bad about that, but I'd also feel a lot more comfortable if when (Schubiner) opened his mouth and talked to me, he told me what was actually happening versus what I need to hear."
Council Member Margie Teall, D-4th Ward, shared Higgins' hesitations about believing the financing is coming together as well as the developer suggests.
"I think he's struggling to try and keep this going and we'll see the proof will be in the pudding," Teall said, adding she hopes Schubiner is right in his prediction that demolition will happen next month.
Schubiner won approval from the City Council in May 2011 to redevelop the 2502 Packard Road site and build a mixed-use project called Packard Square that includes a four-story building containing 230 apartment units and 23,790 square feet of retail space.
The revised building elevations approved by the council Monday night will change the look and feel of the project somewhat. Those changes were discussed in detail at a meeting in December.
The facade changes include a 33 percent reduction in the number of balconies and replacement of brick along the corners of the building on Packard Road with a fiber cement siding. In order to break up the longer elevations and create a rhythm, a pallet of three colors will be used.
Schubiner said the size of the windows was increased, too.
"If you look at the floor plans that are now in for building permit approval, the windows take up most of the wall space in every living room and every bedroom," he said, adding the retail windows also increased in size since the last time the council looked at the project.
Teall still expressed some concerns.
"I wish they had kept the brick," she said. "And the colors they're talking about on the drawings, it looked like a lot of contrast and it tended to break things up too much — too busy."
Ryan J. Stanton covers government and politics for AnnArbor.com. Reach him at ryanstanton@annarbor.com or 734-623-2529. You also can follow him on Twitter or subscribe to AnnArbor.com's email newsletters.