Dexter area family of H1N1 victim says infection hit "fast and hard"
Posted on Sat, Nov 21, 2009 : 6:04 a.m.
An undated photo of Chelsea area resident Rob Darrow, who died last Sunday from complications related to the H1N1 flu. Darrow's family remembers how he went out of his way for others.
Photo courtesy of the Darrow family.
Dexter area residents Sandy and Jim Darrow aren't sure what they'll be doing for Thanksgiving dinner this year.
They always spent it at their son Rob Darrow's house in Chelsea, where he'd cook a few different kinds of turkey and all the fixings.
"He had the best dressing that he had his own secret recipe for," Sandy Darrow said.
Rob Darrow, 48, died last Sunday from complications related to the swine flu, or H1N1 flu, after spending two weeks in the University of Michigan's intensive care unit.
On Thursday, Washtenaw County public health officials confirmed the first H1N1-related death of a county resident. Officials wouldn't say whether Rob Darrow is the H1N1 victim, although a U-M emergency room administrator confirmed a recent H1N1 death was a man from Chelsea.
Local and national statistics show hospitalization and death rates from H1N1 remain largely similar to seasonal flu rates, but swine flu has been receiving more attention because such a large percentage of the population seems to have little immunity to it. It has been more unpredictable because it impacts groups of people - including the young and healthy - which normally would not be considered at a greater risk for catching the traditional flu.
"Unfortunately we know from statistics nationally that 20 percent of those who are dying from this are otherwise healthy people," said Susan Cerniglia, a spokeswoman for Washtenaw County. "It's unfortunate, and it does happen."
Since April, at least 42 people in Michigan have died from the swine flu, state officials said.
This week, Darrow's tight-knit family has been mourning his loss. They remembered Rob Darrow for always going out of his way to take care of others and for his talent for making all things mechanical work, his love of music and his ability to cook a great meal. His funeral was held in Dexter on Thursday.
"Robby was the kind you'd call in the middle of the night and say, 'I've had too much to drink,' or 'My car went in a ditch. Can you help?'" Sandy Darrow said. "He was a caretaker. He had so many friends. He was a special person. Dexter's going to miss him."
Rob Darrow had no underlying illnesses and had barely been sick a day in his life, Sandy Darrow said. He was not part of any high-risk group given priority for the swine flu vaccine.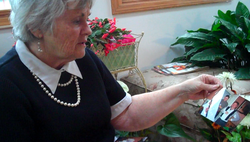 Sandy Darrow looks through some of her favorite photos of her son Rob Darrow, 48, who died Sunday from H1N1 flu-related complications.
Tina Reed | AnnArbor.com
But a couple weeks ago, he began telling family members he just didn't feel well, Sandy Darrow said. He had only a slight cough, but headed in to see his primary care physician and was given medicine for the cough. He said he was extremely tired and seemed to be a bit short of breath, Sandy Darrow said.
A little more than a day later, Rob Darrow drove himself back to his doctor's office with hives, which the physician guessed was a bad reaction to the medicine, Sandy Darrow said. That evening, he was admitted for overnight observation at Chelsea Community Hospital, Sandy Darrow said, and she expected to pick him up the next morning.
Instead, she learned from her daughter Becky he'd taken a terrible turn for the worse, and health workers were struggling to stabilize him for the 8-minute helicopter ride to the University of Michigan hospital in Ann Arbor.
Darrow had severe pneumonia. When he got to U-M's ICU, he was heavily sedated to help him fight the virus. At one point, he was hooked up to an oscillator that helped clear his lungs, but made his entire body shake, she said. His case was lab-confirmed H1N1.
"They kept telling us he could hear us," Sandy Darrow said. "You put on the gown and you put on the goggles and the gloves and then go and see him. We just talked and talked and talked to him about vacations he'd gone on and about parties… anything we could just to make him feel better."
As physicians worked to get his lungs functioning properly again, his kidneys failed. Ultimately, his heart did too, Sandy Darrow said. It was Nov. 15, about 15 days after he'd been admitted to the hospital.
It was the first day of hunting season - the day Rob always cooked a big annual opening day meal for everyone.
Sandy Darrow praised the efforts of U-M health workers, who she said put in extra work trying to pull Rob Darrow - and dozens of other ICU patients with H1N1 flu - through.

Hospitalizations make up a small fraction of those who get the H1N1 flu, and those who end up in the ICU are an even smaller fraction. But local hospital officials have previously described the special challenges H1N1 patients pose once they need the critical care treatments provided in the ICU. U-M has been a magnet hospital in the region for some of the most severe cases because of the technology it has available in its ICU.
This week, officials said they've been seeing small declines in the number of people needing assistance from their primary care doctors, needing emergency assistance and being admitted for inpatient or critical care stays due to H1N1 or other flu-like illnesses.
But numbers are still up from what they'd typically be this time of year, and both county and hospital health officials remain vigilant for any upsurge in cases of H1N1.
With the limited supply of H1N1 vaccine still coming into the county, only those in priority groups are eligible to get the vaccine for now, Cerniglia said.
The county is obligated to follow U.S. Centers for Disease Control guidelines by trying to get the vaccine to those most at risk for developing complications for the flu because everyone simply can't get a dose right now, she said.
The county will be distributing thousands of doses of vaccine to priority groups at a clinic planned to start at 10 a.m. Sunday at Eastern Michigan University's Convocation Center.

Those priority groups will include:
Pregnant women
Young people ages 6 months through 24 years.
Caregivers of infants 6 months and younger.
People ages 25 through 64 who have an underlying condition, such as diabetes, asthma or any other condition that compromises the immune system, putting them at greater risk for complications from H1N1.
Health workers who provide direct patient care.
Starting at 9 a.m., the clinic will hand out wristbands that signify a person has been screened and can get a dose of the vaccine. The wristband also allows the person to leave and return to the premises for the vaccine. Friends or family can pick up wristbands on behalf of children or others who are unable to stand in line, but the recipient of the vaccine must be wearing the wristband to be vaccinated.
The public is being urged to continue following preventative measures such as good hand hygiene, good health habits and self isolation when sick to prevent the spread of infection.
Sandy Darrow hopes other county residents who hear the story will be more aware of the symptoms and warning signs of the H1N1 virus and won't take typical symptoms of coughing lightly.
Health officials have also advised residents to be vigilant about flu-like symptoms, particularly if a person is at high risk or is exhibiting distress like trouble breathing. They advise those who are ill or who are caring for a loved one to call their doctor for guidance on their situation.
"Just love your kids, hold them close and give them a kiss. Pay more attention. I mean, I wonder if we could have gotten him into the doctor faster. But it hits fast and hard," Sandy Darrow said.
Most importantly, she said, community members should take a moment to appreciate their family. "Give them and extra hug tonight," she said.