Posted on
Fri, May 10, 2013 : 9:41 a.m.
Dexter Area Museum hosts antique appraisal clinic May 11; Grass Lake Sanctuary invites breast cancer survivors to summer wellness retreats
By AnnArbor.com Staff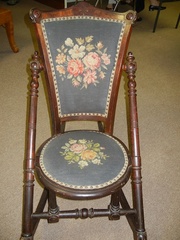 photo courtesy of DAM
From an antique appraisal clinic at the Dexter Area Museum May 11 to wellness retreats being offered for breast cancer survivors at Grass Lake Sanctuary, here's a roundup of some of the stories posted on AnnArbor.com's Community Wall this week:
Spring Antique Appraisal Clinic Held at the Dexter Area Museum May 11th
Do you have an item you would like to know the value of? There will be an Antique Appraisal Clinic Saturday, May 11th from 10:00 a.m. to 3:30 p.m. at the Dexter Area Museum.
By: Kate Callahan: Women's Wellness Retreats for Breast Cancer Survivors
Each Life-Balancing Women's Wellness Retreat provides 3-days of rest and renewal and takes place on the 145 acre Grass Lake Sanctuary Nature Preserve.
By: sophmagoats: Lest this be a lesson to never be irresponsible
By: Bob Krzewinski: Bike-Bus-Walk Week Promoting Alternative Transportation In Ypsilanti and Local Bicyclists Ride To Commemorate Those Injured And Killed
By: A2 Parks: Register for summer day camp at Buhr Park Pool
By: City Pets Veterinary Clinic: 2 Miles for 2 Million Dogs Puppy Up! Walk
By: Chris Kochmanski: Summer Camps at Daycroft Montessori School of Ann Arbor Offer Worlds to Explore … and Sprinklers to Run Through!
By: Freighthouse: Ypsilanti New Tech host Empty Bowls Event

By: Meredith Smith: Pioneer Grads Heed the Call to Serve
By: Partners in Personal Assistance: Employment for People with Disabilities
By: Erin K. O'Neill: Michigan Web Design Company Launches New Website for Cranbrook Educational Community
By: A2Hank: Giant Indoor Garage Sale - 3150 Glazier Way, Ann Arbor
By: Meredith Schindler: Come see the Ypsilanti High School spring musical, "The Drowsy Chaperone," this weekend at YHS
By: Susan Garavaglia: Safe Kids Huron Valley and Vineyard Children's Center Host Safe Kid's Day
By: Janis Williamson: American Business Women's Association - Maia Chapter
AnnArbor.com's Community Wall is a spot for local people to post
local stories, news and announcements. To post a story, sign in to AnnArbor.com, then go to www.annarbor.com/community and use the Got News? Tell Us function at the top to submit your news. If you have a photo to add, e-mail it to us at em>community@annarbor.com, and we'll insert it into your story.