Posted on
Tue, Apr 2, 2013 : 9:34 a.m.
Dexter Community Orchestra hosts Chamber Series Recital April 14; Anonymous donor doubles gifts to EMU
By AnnArbor.com Staff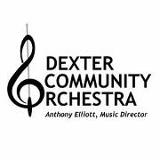 from Dexter Community Orchestra website
From the Dexter Community Orchestra hosting a Chamber Series Recital to an anonymous donor doubling gifts to Eastern Michigan University, here's a roundup of some of the stories posted on AnnArbor.com's
Community Wall
over the past few days:
By: Angela Noble:
Dexter Community Orchestra Chamber Series Recital
The community is welcome to an afternoon of chamber music performed by members of Dexter Community Orchestra on April 14 at 2 pm.
By: Geoff Larcom: Anonymous donor's gift enables EMU to match first-time donations and mount special challenge
Thanks to a gift made by an anonymous donor, all donations of up to $5,000 made by any first-time donor to Eastern Michigan University over the next 100 days will be doubled.
By: PhillyCheeseSteak: Univ of Mich/SPH Symposium, "Mass Incarceration and Its Effects of Population Health and Health Disparities" April 4-5, 2013
By: Sandria: A simple Human Rights Issue
By: Angela Todd: Almost run down by a church.
By: cindy1: Bitter Pill, new documentary on current US healthcare system
By: Janet Hawkins: Spring/Summer Registration Is Underway At WCC and Employers Came Ready to Hire at WCC Job Fair
By: Amy Mackens: Lapeer County Community Foundation Donates to Camp for Children Affected by Cancer
By: TOPS of Dexter: Take Off Pounds Sensibly of Dexter Holds Annual Banquet
AnnArbor.com's Community Wall is a spot for local people to post
local stories, news and announcements. To post a story, sign in to
AnnArbor.com, then go to www.annarbor.com/community and use the Got News? Tell Us function at the top to submit your news. If you have a photo to add, e-mail it to us at community@annarbor.com, and we'll insert it into your story.