Posted on
Wed, Apr 28, 2010 : 6:02 a.m.
The Squall: Dexter High School's student newspaper causes storm over stories
By Janet Miller
The Squall, Dexter High School's student newspaper, has caused a storm of its own. 
The paper has become the center of controversy, with a group of parents now organized online to criticize articles about teen pregnancy, drugs and suggestive dancing. They're calling for tighter controls.
Coincidently, the Board of Education is in the middle of reviewing the school policy that covers student publications. The board's policy committee received four options, but a decision by the school board likely won't come until the end of the summer.
The storm began nearly four weeks ago, said Dexter High senior Alex Everard, co-editor of the Squall. Since then, parents have called the school district and attended two school board meetings and a policy meeting to express their concerns. Parents and students on both sides of the issue spoke at Monday night's school board meeting.
Angela J. Cesere | AnnArbor.com
Controversy erupted after the student newspaper ran a story and pictures of a dance club in Whitmore Lake. The story addressed how students were abandoning school dances for private club dances, where suggestive moves such as "grinding" aren't restricted. The article addressed moves banned at Dexter High but allowed at Crome the Club, and carried a picture of a high school couple dancing suggestively.
Anonymous parents launched the Internet blog Clean Up DHS, linking readers to articles and photographs in the Squall and the Rostrum (a magazine insert of the Squall) that the blog authors found offensive. 
That included a 2008 issue where two students mimicked the iconic John Lennon/Yoko Ono picture from Rolling Stone magazine. Unlike Lennon, the students were clothed, but the Rolling Stone picture was printed. The blog also took issue with stories the paper has written on teenage pregnancy, drug use and drinking.
The Squall is not advocating bad behavior, Everard said. "We are reporting what is going on," he said.
High school and teenagers are fertile ground for controversial subjects, he said. "I'd be concerned if there was nothing in a high school newspaper that was about inappropriate behavior. I go to high school. I walk the halls. There are plenty of inappropriate things going on in a building of teenagers. I argue for our right to report on them."
While there was concern about the dance story, much of the criticism has focused on stories that ran two or three years ago, Everard said. "That makes it really hard to address," he noted.
Dexter High Principal William "Kit" Moran said he supports the students and how the paper operates. Moran doesn't review the stories before they are published. While staff advisor Rod Satterthwaite edits them, it's generally for grammar and spelling and not for content, Everard said. 
Still, that doesn't mean adults don't have input, Everard said. "Mr. Satt is the voice of reason."
Until now, the paper has been governed by relatively vague language that gives the student journalists control over the paper. The school board is looking at four potential policies that are more specific, better written and cite case law, Moran said. 
The options run from strict oversight to the way the paper operates now, with relatively little restriction, Moran said. He favors the least restrictive policy, but the decision is up to the school board. The policy committee is expected to continue its review in May, he said.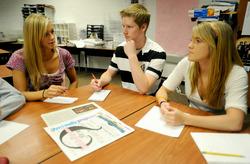 Angela J. Cesere | AnnArbor.com
Parent Lynn Davis, who is not affiliated with the Clean Up DHS blog, said she favors better adult oversight of the student newspaper. It should follow the same policies that govern other media, such as the prohibition against student clothing carrying sexually suggestive images, she said. 
Davis worries articles about high-risk behavior could be perceived as promoting it and said student journalists may not recognize the power they wield with their audiences.
Still, Davis said, she understands it can be difficult to determine what's appropriate and what is not. While some parents objected to a story on teen pregnancy, Davis applauded it. 
"It was a great story," she said. "I know it's hard to nail down what most people think is OK."
Student newspapers don't enjoy the same First Amendment rights as other newspapers, said Frank LoMonte, executive director of the Student Press Law Center outside of Washington D.C. 
"If the Wall Street Journal wants to publish an editorial that says smoking marijuana is good for you, they can do that all day long and the government can't stop them. A school principal could pull that out without running afoul of the law," he said.
But that doesn't mean school newspapers don't have any free speech rights. A governing body such as a school board can, through its policy, make school papers "public forums" that would limit censorship. Or they could make them part of the school's curriculum, where heavy prior restraint could be exercised.
At Dexter High, the maxim that controversy sells newspapers is proving true. "Our website usually gets 500 hits a month," Everard said. "This month, we've had 800."
Janet Miller is a freelance writer for AnnArbor.com. Reach the news desk at news@annarbor.com or 734-623-2530.