Posted on
Sun, Apr 28, 2013 : 3:30 p.m.
'Dexter' screenwriter Scott Reynolds encourages EMU graduates to follow their dreams
By Erica Hobbs
A 1995 Eastern Michigan University graduate who rode out a series of menial jobs to become an award-winning screenwriter for the Showtime series "Dexter" offered his story as an example for 2013 graduates during a keynote speech Sunday at the Convocation Center in Ypsilanti.
"It was a long hard road, but (screenwriting) was and is what I've always wanted to do," Scott Reynolds said during the morning commencement ceremony. "And that's what you want to say about your life, right? Achieving your dream? Not just living for the weekend. Getting the desires of your heart."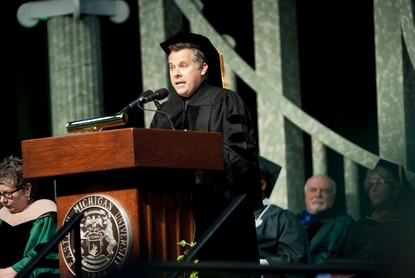 Daniel Brenner | AnnArbor.com
The ceremony was one of two commencements to take place Sunday, with a
record number of nearly 2,400 students graduating
from the university.
Reynolds' path to success was a story of perseverance. After graduating from Eastern with a degree in English literature and theater and a minor in film studies, Reynolds moved to Los Angeles to pursue his dream to become a screenwriter. Seven years later, Reynolds said he still hadn't sold a screenplay or been staffed on a show and began to watch his friends start to give up on their dreams and move back home.
But Reynolds said he couldn't give up because he didn't have a backup plan. It was then when he got his first break working for "Touched by an Angel," a show he joked he'd never seen before but his grandmother enjoyed. That project was short-lived but was the start of a series of assistant jobs for different shows.
"I was one of the first ones in (to work) and one of the last to go," he said. "I made sure the coffee was hot, that the water was always full. I did all these things, these menial jobs that had nothing to do with my degree, in the hope that I would become a screenwriter."
That effort eventually paid off. After working as a staff writer on the short-lived military drama "E-Ring," Reynolds was hired as a writer's assistant for "Dexter," a move he described as a step backwards. But Reynolds continued working hard at his "menial" tasks while continuing his screenwriting work, eventually writing his own script in season two and becoming part of the writing staff.
Reynolds advised graduates to make time every day to do what they love and to take chances on their path to fulfilling their dreams.
"Don't make safe decisions," he said. "I've never heard of anyone I know who has had big success that didn't decide to forge a new path, rather than the safe, well-trod one."
Reynolds also told graduates to remember to serve others and not be a "pooper."
"Never, if possible, be the one who just trashes ideas," he said. "If you must trash an idea, then always come with a solution. People want to work with people who bring solutions to the table. Not with the person who tells people why you can't do something."
Graduates said they enjoyed the speech and found it inspiring.
"I don't really know who he is, but he definitely won me over," said Michelle Paul, who graduated with a bachelor's degree in psychology. "It was really interesting and it was a lot more fun than I expected."
Kimani Jeffrey, who graduated with a master's degree in public administration, said he liked the speech because it was about hope.
"He started out of college and it's perseverance that he actually made it," he said. "It's what he loves to do and he's fulfilled his dreams."