Posted on
Fri, Nov 13, 2009 : 5:59 a.m.
Dexter teenager with inoperable brain tumor asks community to help charity
By Ann Dwyer
For Laurence Carolin of Dexter, not getting his wish changed his life for the better.
Only 15, Carolin saw the dreams he once considered important pale in comparison to his new dreams of ending suffering in Third World countries.
And all while he's battling for his own life against an inoperable brain tumor.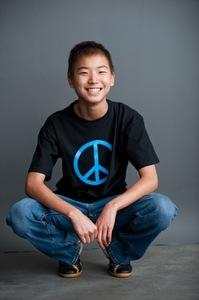 When the Make-A-Wish Foundation asked Carolin what he wanted, he asked to meet his hero Bono. When the charity was unable to arrange a meeting, he shifted his focus and instead asked the community to help him raise money for his Nothing But Nets team.
Nothing But Nets provides insecticide-treated bed nets to citizens in countries such as Africa to help end the preventable deaths caused by malaria.
On Saturday and Sunday, Nov. 14 and 15, St. Joseph Catholic Church at 3430 Dover Street in Dexter will be collecting donations in Carolin's honor for Nothing But Nets.
In 2007, at the age of 13, Carolin was diagnosed with a malignant brain tumor called glioblastoma multiforme. It's the same type of tumor that afflicted Senator Ted Kennedy.
It's aggressive, and fewer than 25 percent of patients live 2 years past diagnosis.
Even before the diagnosis, the tumor caused a drastic change in Carolin, who was born in South Korea and was adopted by Lisa and Patrick Carolin when he was 5 months old.
Growing up, Laurence Carolin loved to cook, play soccer and practice guitar. But the tumor took him to a dark place, causing the upbeat and energetic boy to become depressed and withdrawn.
It was during that time that Carolin began listening to more U2 music. Through the music and Bono's humanitarian efforts, Carolin began to see a world bigger than his own.
"I wouldn't be alive today if it weren't for the music of U2," Carolin wrote in an essay on ending extreme poverty.
When Make-A-Wish was unable grant Carolin's wish to meet his hero, he came up with what he considers a far better wish. He asked to donate the $5,000 that was to be used on his wish to the United Nations Foundation.
"Here was a young man who was facing a terminal illness, and rather than worry about or wishing for something very concrete for himself, he was thinking about people that were half a world away from us," said Julie Schumaker, who first read his story in The Ann Arbor News. His story inspired her to help him in his cause.
Carolin has received a lot of attention because of his giving spirit. But he always focuses instead on helping those in need. Even when his own mother asked what she would do without him, she said he just shook his finger at her and replied, "Find a cause."
In September, Laurence Carolin and his parents were given backstage passes to a U2 concert in Chicago. And backstage, something incredible happened.
"He just zeroed in on Laurence," said Lisa Carolin. "He" was Bono. "He said, 'Laurence! You're an inspiration. I've read all about you,'"
Bono took Carolin to join the band's prayer session before the concert.
In the end, Carolin was granted his initial wish - not because he was sick, but because he inspired the man who had inspired him.
In a recent U2 concert streamed live over the Internet to millions of viewers, Bono gave a brief tribute to Carolin.
Since September, Carolin's health has taken a turn for the worse. His mother has to do much of the speaking for him.
He's still cognitive, but it's difficult for him to express himself. He's lost the use and the peripheral vision on his right side. A bed is set up in the living room because his neck is often too weak to support his head. Most disappointing though, says his mother, is he can no longer listen to music.
Even with those issues, there is no sense of stifling sadness in the home. Instead, Carolin, his mother, and those around them remain focused on helping others on the other side of the globe.
"Even as his health deteriorates, he is still campaigning for the cause in which he believes. I hope that Laurence's example - his big heart and big dream - inspires others to make a difference," said Schumaker.
To make a donation to Laurence's Nothing But Nets team, go here. To learn more about Nothing But Nets, visit the website at nothingbutnets.net.
If you would like to hold a fundraiser for Nothing But Nets in Laurence's name, contact Julie Schumaker at jschumak@umich.edu.
Ann Dwyer is a freelance writer for AnnArbor.com. Reach the news desk at news@annarbor.com or 734-623-2530.