Posted on
Fri, Mar 8, 2013 : 9:30 a.m.
Dexter Pioneer Arts Fair returns Saturday after tornado caused last year's cancellation
By Lisa Carolin
One year ago, the tornado that ravaged Dexter also canceled the Dexter Pioneer Arts Fair, a unique fair where artists are required to demonstrate their art or craft.
Courtesy photo
For Mac Buxton, the devastating tornado provided the inspiration as well as the material for his own participation this time around. Though Buxton, a wood-carver by trade, will not have a booth at this year's art fair this Saturday, but he did make a donation to the event — a maple bowl that he carved from a tree that was taken down during the tornado that ravaged Dexter.
"Last year people got wiped out because of the tornado, and this year we got a gift because of it," said Ginny Ryan, chairperson of the Dexter Pioneer Arts Fair and a member of the Dexter Area Historical Society and Museum.
Buxton has been selling his carved bowls, vases and spoons at the fair for more than 15 years, but due to his wife's serious illness, they will not be at this year's art fair.
"My wife and I have donated many bowls through the years," said Buxton, who lives in Farmington Hills. "We've always had a very good show in Dexter, and I try to do special things for the historical society when I can."
Carol Jones, the fair's publicity coordinator, said this year's show will feature 50 different artisans.
"Some of the crafts like wood carving, loom weaving, wheat weaving, rug hooking and spinning are older crafts that many people have never seen before," said Jones, who says an average of 600 to 700 people attend the fair every year.
The artists who participate in the Dexter Pioneer Arts Fair donate 15 percent of their sales to the Dexter Historical Society and Museum.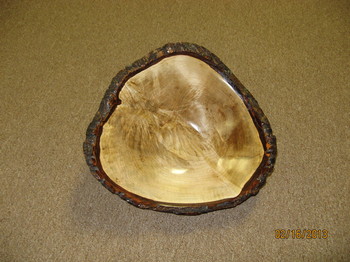 Courtesy photo
This is
Diane Turek
's first year at the Pioneer Arts Fair, and she says that as a history-buff she is pleased to support the historical society.
"I do felting in a different way," said Turek. "I'll felt a recycled wool sweater first, then cut it and use it like fabric to construct purses and tote bags. I also hand knit some from wool yarn."
Rebecca Levenson, a 10-year veteran of the Pioneer Arts Fair, sells one-of-a-kind garments that include jackets, scarves, vests, dresses and fabric flower pins.
"I use various techniques such as needle felting, hand-painting, hand-dyeing and applique/piecing of fabrics from around the world," explained Levenson.
Watercolor painter Susan Falcone, who focuses on local native birds, has been demonstrating at the Pioneer Arts Fair since 1996.
"The show is small, welcoming, and intimate, and because the exhibitors are invited, the quality of the art and craft that is demonstrated is very high," said Falcone.
The 40th Dexter Pioneer Arts Fair is Saturday from 10 a.m. to 4 p.m. at Creekside Intermediate School, 2615 Baker Road in Dexter. Admission is $3 for adults and 50 cents for students K-12.