Posted on
Fri, Nov 18, 2011 : 4:47 p.m.
Dexter's buck pole total: Local hunters display 38 deer this season
By Lisa Allmendinger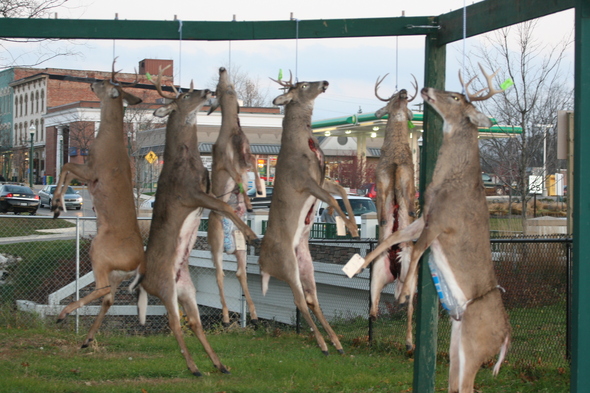 Lisa Allmendinger | AnnArbor.com
A total of 38 bucks were hung from the
Mill Creek Sport Center
buck pole throughout the traditional event during the first three days of firearm
deer season
.
"It was about the normal number and there were some beauties," said Maureen Heikkinen, general manager of the sport center.
In fact, since the weather cooled down after opening day on Tuesday, there were still about a dozen bucks on display until Friday night's raffle drawing.
The deer meat will be processed, then eaten by the hunters, their family and friends.
Heikkinen said some people took their deer down and others have left them there since the weather turned colder, which won't ruin the quality of the meat.
"The first day (of firearm season), we were right on line with previous years, (for the number of deer on the pole)" she said.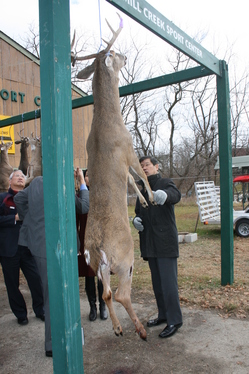 Lisa Allmendinger | AnnArbor,com
Since opening day took place on a Tuesday, there tend to be less hunters out in the woods than if the firearm season started later in the week.
Heikkinen said most of the deer came from local hunting spots in the Dexter and Chelsea areas. They belonged to hunters who live not just in those areas, but also from Ann Arbor and Ypsilanti as well as Pleasant Lake.
There were deer on the pole from hunters as young as 10 years old to those in their 60's and perhaps even older, Heikkinen said, adding that although they check driver's licenses to claim the deer, they don't check the birthdates on them.
Mill Creek has been in business just outside downtown Dexter in Scio Township since 1948, and Heikkinen said previously that 2,000-3,000 people stop by to see the bucks during the three days that the pole is up.
In fact, during a visit of Japanese dignitaries to the area last year, one of the stops on the tour was to the buck pole. The deer firearm season runs through Nov. 30. In 2012, opening day will take place on a Thursday, she said, so they expect an even larger number of deer on the buck pole for the three days.
Lisa Allmendinger is a regional reporter for AnnArbor.com. She can be reached at lisaallmendinger@annarbor.com. For more Dexter stories, visit our Dexter page.