Posted on
Fri, Nov 25, 2011 : 6:27 p.m.
Area seniors 'get stuffed' during 10th annual event at Dexter Senior Center
By Lisa Allmendinger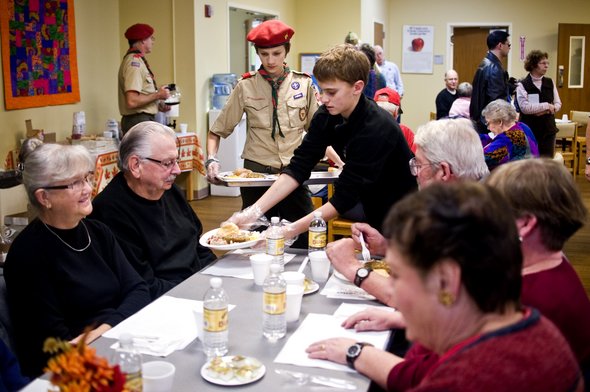 .Joseph Tobianski I AnnArbor.com
Robert Callfas
drove from Windsor, Canada, to be one of the about 150 area seniors who "got stuffed" at the
Dexter
Senior Center Friday afternoon.
In its 10th year, the event brings between 150-200 Western Washtenaw seniors to the center each year the day after Thanksgiving for turkey and all the trimmings.
'Seniors Get Stuffed' is put together by a number of community organizations, including the Dexter Kiwanis and Lions clubs, the Dexter High School Key Club and National Honor Society, St. Andrews Church, Boy Scout Troop #477, the United Methodist Church and the Leo's Club, a youth version of the Lion's Club based at Dexter High School.
The nine turkeys were donated by Busch's while Steve and Sandy Varney cooked them, said Fred Model, the chairman of the event. "I celebrate two Thanksgivings," Callfas said, referring to the traditional Canadian October Thanksgiving date and Thursday's American counterpart.
Callfas has family in Scio Township and his niece, Barbara Bolt, said she goes every month to pick him up in Windsor and bring him to the states.
"This is truly a community event, although the senior center donates the space," said Jim Carson, president of the Dexter Senior Center board and a village councilman. "So many community groups come together to pull this off."
In fact, Model wasn't sure it would take place this year but he approached Busch's and officials were willing to donate the food.
"I think it's good to help people and to feed them meals," said Eric Bristow, 11, a scout with Troop 477, who was greeting the seniors at the door. "It's good to know them and to learn from them and what they've done for the community and it's nice to do the same for them."
Terry Walters, a member of the Dexter Lions Club and former Village councilman, said this event fits perfectly into the service organization's mission.
"I've enjoyed this project and serving the seniors who have served the community and thank them for their commitment."
For Julie Niethammer, president of the Dexter Leo's Club, serving the seniors and helping with the event was a way to give back to the local community.
She said she'd only had three hours of sleep before arriving at the senior center because she went to Briarwood Mall for Black Friday shopping and bought toys for a charity while she was there.
"Today is about community," said Dave Piper of Dexter. "It's special because of Thanksgiving and the holiday season and it's a nice community thing."
Julie Knight, who recently moved to Dexter from Dexter Township, said it was her first time at the event.
"This Thanksgiving meal was even better than yesterday's because I didn't have to cook it," she said, smiling.
Lisa Allmendinger is a regional reporter for AnnArbor.com. She can be reached at lisaallmendinger@annarbor.com. For more Dexter stories, visit our Dexter page.