Posted on
Sat, Aug 28, 2010 : 6 a.m.
Work to begin on border-to-border trail section in Dexter
By Lisa Carolin
Editor's note: This story has been updated to clarify the location of future phases of the trail.
Workers will soon begin constructing on a section of Washtenaw County's border-to-border trail in Dexter.
The Village Council Monday approved a connector for the trail that will run from the Westridge subdivision on the northwestern edge of Dexter through Warrior Creek Park under the railroad bridge and then an additional 100 feet past that point to an overlook for a total length of close to 600 feet. That would be the first section of the trail built in the Village of Dexter.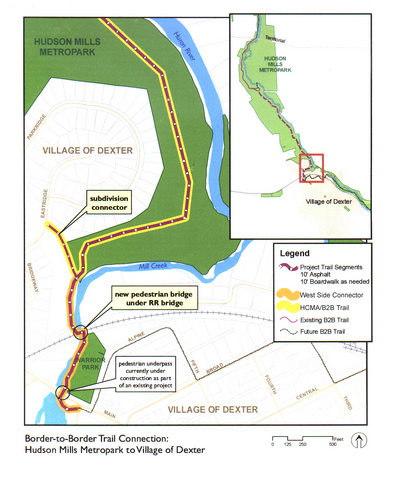 The
border-to-border trail
is an collaborative project to create a trail for non-motorized travel through Washtenaw County along the Huron River between Livingston and Wayne Counties. When completed, the trail will be 35 miles long and pass through the communities of Ypsilanti, Ann Arbor and Dexter.
Several segments have already been completed
.
Coy Vaughn, superintendent of park planning for Dexter, said the trail will include a 45-foot bridge over Mill Creek in Dexter and 255 feet of elevated boardwalk with an observation deck at the end of it.
The newly agreed upon section of the trail will be finished sometime by next summer. The Westridge subdivision is isolated now, and the trail will provide a connection into town," Vaughn said.
File photo
A second phase will connect the trail to the Dexter-Huron Metropark, and a third phase will connect the already-completed part of the trail that runs from North Territorial Road to Hudson Mills, to the Village of Dexter. Those segments should be completed by 2012.
"Dexter will be a real hot spot for non-motorized travel," said Bob Tetens, director of the Washtenaw County's Parks and Recreation Commission.
Seventeen miles of 35-mile border-to-border trail has been completed, mostly in the eastern part of the county. The existing trail is 10-feet wide and made of asphalt and crushed stone. It's aimed at walkers and bicyclists.
The Washtenaw County Parks and Recreation Commission has committed about $1.3 million toward the construction of the project. The project has been awarded a match grant of $780,000 by the Michigan Department of Transportation. It has also received commitments of at least $860,000 from the Michigan Department of Natural Resources and $100,000 from the Washtenaw County Road Commission.