Posted on
Wed, Aug 11, 2010 : 5:30 a.m.
Dexter Daze marks 38th year with parade, music, crafts, new pole vaulting competition
By Laura Blodgett
What started out as a sidewalk sale nearly 40 years ago has evolved into a full-blown festival that attracts thousands of people to downtown Dexter.
This weekend's 38th annual Dexter Daze will feature a parade, an arts and crafts show, a classic car show and an assortment of live entertainment and booths featuring everything from doll clothes to photos of local landmarks.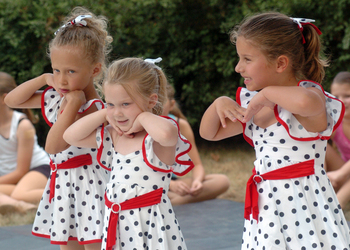 Ann Arbor News file photo
Dexter Daze originally began with a few local businesses holding a sidewalk sale before the Dexter Chamber of Commerce developed it into a larger event.
"One of the nice things about it is that all the entertainment is free," said Donna Low, Dexter Daze booth coordinator, who has been volunteering with the event for the last four years. "You can sit all day and listen to music and not spend a dime."
Low added that with almost 16,000 cars traveling under the bridge on Dexter-Pinckney road on a typical day, "You can imagine the people we get. I believe we had 30,000 people attend last year. It's good for Dexter, and all the vendors and restaurants in town do well."
If you go
What: 38th annual Dexter Daze
When: Aug. 13 and 14, from 9 a.,m. to 8 p.m. daily
Where: Downtown Dexter
More information: Dexter Daze website
There will be a few paid activities this year, including a train ride for small children that will be $1 per person. In addition, there will be bus tours to Gordon Hall for $5 person with children under 12 free.
In addition to the more traditional library book sale and farmers market, some of the more unusual components will be the fourth annual Kidney Car Show at A & W, which benefits the National Kidney Foundation and a new pole vaulting contest at Warrior Creek Park. The competition is open to vaulters of all ages and begins at 1 p.m. Saturday.
The Dexter Daze parade steps off Saturday at 10 a.m. from the corner of North Ann Arbor and Inverness streets. Among the parade units will be floats, dignitaries, horses, and classic cars.